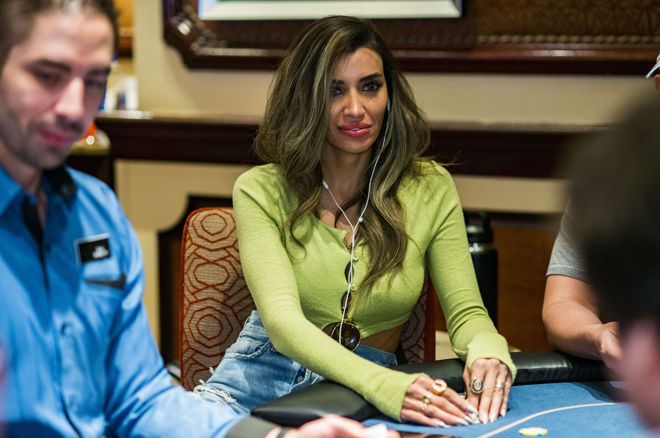 The World Poker Tour (WPT)'s 20th anniversary season is continuing this week where it all began, at the Bellagio Hotel and Casino in Las Vegas with the Five Diamond World Poker Classic.
At the end of the opening day of the $10,400 main event, it was Ethan Yau topping the chip counts with 293,000 chips. 2013 Five Diamond champion Dan Smith isn't far behind with 213,000 chips.
The popular vlogger known as "Rampage" is coming off a major tournament win just last month at the Poker Masters where he defeated a field of 76 entries in a $10,000 No-Limit Hold'em event for $197,600.
Wednesday saw 450 entries take their shot at becoming the latest WPT Champions Club member at the tour's flagship stop, with eyes on taking home a piece of the $5,000,000 guaranteed prize pool. By night's end, 250 managed to survive and advance to Day 2 Thursday. Late registration and re-entries are open into Day 2.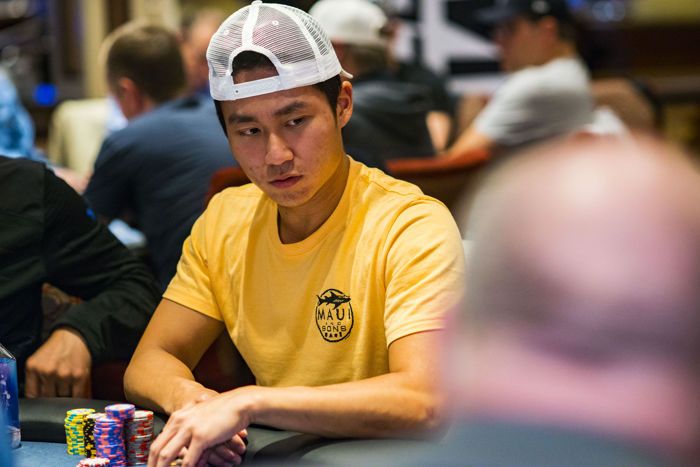 Stars Amid the Five Diamonds
The Bellagio poker room was packed with big names from the start of the day as almost 200 players took their seats at noon local time for the first of eight 60-minute levels. Among them were Poker Hall of Famer and former WPT Player of the Year Daniel Negreanu, who finished the day with 79,000 chips from his starting stack of 50,000.
"It was a rollercoaster. I was down to 15,000 after folding a hand, then I was back up to 120,000, then I was back to 15,000 again and up to 160,000 and ended with about 80,000 so y'know it's all right, it's Day 1," he said. :There's still gamble left."
Negreanu is coming off one of his largest-ever career scores, winning Super High Roller Bowl VII for $3,312,000. He'll be looking to add to his list of previous Five Diamond successes, with a specific goal in mind at the end of the week.
"I've won this event (2004), I've come third (2006), I've had a couple of deep runs in it before, and I think if I win it, I'm back at number one on the WPT all-time money list, so that'd be fun. Might as well do that."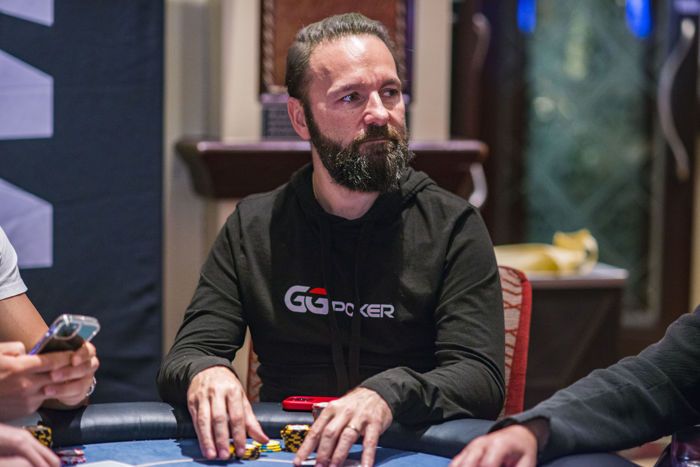 While prize pool and payout totals won't be known until after registration closes on Thursday, a first prize of over $942,000 would indeed vault Negreanu over Carlos Mortenson for top spot on the WPT money list.
Many more of the WPT's elite were in the opening day field with 38 WPT champs in the field including end boss Darren Elias, who's looking to add a Five Diamond main event championship to his 46 cashes, 13 final tables, and four titles, all WPT records. He finished the day with 103,000 chips.
Seven former Five Diamond champions were in the field as well including defending champion Taylor Black, Alex Foxen, Dylan Linde, James Romero, Mohsin Charania, and the aforementioned Dan Smith.
Team WPT Advances to Day 2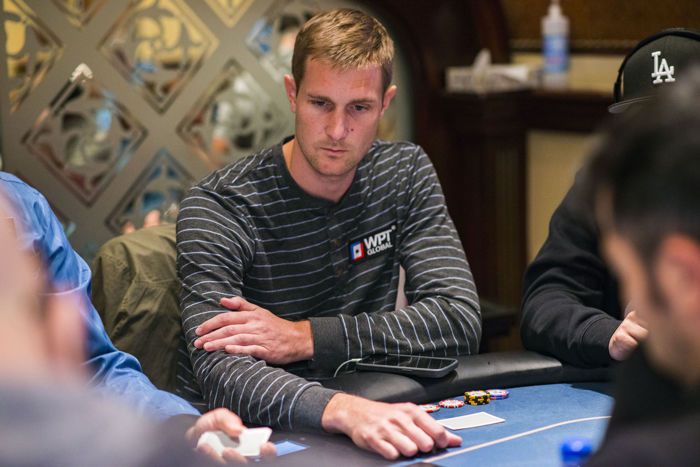 It was a successful day for members of the WPT family, as ambassadors Andrew Neeme and Brad Owen (fresh off their successful meet-up game at Bellagio), announcer and Champions Club member Tony Dunst, and LearnWPT trainer Andrew Lichtenberger all advanced to Day 2.
Neeme led the way for them with 210,000 chips, while Owen finished above starting stack with 68,000. Lichtenberger (42,500) and Dunst (23,500) will be starting Day 2 below the opening mark of 50,000.
Check out the WPT Hub on PokerNews here!
The Woman of the Hour
While the now infamous jack-four heard 'round the poker world' is still a hot topic of discussion in cardrooms everywhere, the woman in the crosshairs of the situation, Robbi Jade Lew entered the tournament midway through the day. She announced earlier in the day on Twitter that this would be anyone in the room's chance to 'get her' with her signature hand.
Ok ok ok I'll come ##‍♀️ Made my way back to playing cash games. Next up?#WPTFiveDiamondWorldPokerClassic
Lew is actually coming off a win in the last tournament she played in late August at the Bicycle Club in Los Angeles, California, a $2,200 buy-in where she took home $20,000.
She wasn't as fortunate Wednesday, as she busted late in the day shortly after slipping to 13 big blinds when she called a 10 BB all-in versus queen-seven, and her opponent made trip queens. Lew still spoke to PokerNews after her elimination, saying she was just happy to be back playing poker.
"It's actually been really nice. I have to be honest with you, I was a little nervous coming in here as you can imagine. It's my first tournament since the incident/scandal happened so it was tough to walk in, but I had a lot of support from people, really asking me to come and that was very, very helpful. And I also have a lot of friends here which is really nice. It really wasn't that bad."
She continued: "It was a good time, and it feels like I'm kind of back doing the normal thing but there's still a little bit weird of weird vibes."
Here's Everything That's Happened So Far in the HCL Poker Controversy
Lew also mentioned that she'll be back Thursday to reenter on Day 2, and while she's best known for deep-stacked cash game play, she says she's very comfortable starting with a shorter stack as well.
"That's actually one of my best games. I think it's really easy to know what you have to do at that point. It's a little more difficult when you're deeper stacked and everything, but when you're at 25 to 30 (big blinds), the ranges of the charts become pretty easy to predict. So I'm going to hope for one quick, lucky double-up and then just play my normal game as I play it."
Seat Giveaway Winner Nathanson Thriving on Day 1
Eric Nathanson of Henderson, Nevada, a low-stakes player who won a seat into the Five Diamond Main Event through a WPT Twitter giveaway, is making the most of his debut in the big time taking an even 200,000 chips into Day 2. Nathanson had been sharing his experience throughout the day on his Twitter account.
Congratulations to @2outhits for winning our #MUGGiveaway earlier this week and securing your seat to the $10,400… https://t.co/jcO8eccq8s
After he bagged up one of the biggest Day 1 stacks in the room, he talked to PokerNews about what a great experience he had all day.
"It's been amazing. Everybody's been so nice about everything and when they hear that I ended up here on a Twitter contest, they've been just really fun and inviting to get in the game. And I ran good, so it made it a lot easier."
While his opponents may have been nice, he did have some legends to contend with throughout the day including Nick Schulman.
"Nick's actually the one who gave me problems a little bit. JJ Liu I played with for a little bit, she was some fun, Asher Conniff was here earlier, and I knocked out Frank the chicken wing guy (Frank Stepuchin). I took queens over jacks on him and it was on from there."
Nathanson, who primarily plays $60 and $120 tournaments in Las Vegas is off to a great start towards boosting his career live tournament earnings of just under $8,000 if he can keep his momentum into the money on Friday. First things first though.
"Just come here and try to get a bag again. Every day, all I can do is get a bag. I'm going to have as much fun as I can along the way and if I can get a bag, I get a bag."
Still Time to Join the Action Thursday
Play continues at noon Thursday with the start of Level 9 and blinds of 1,000/1,500 with a 1,500 big blind ante. Registration and unlimited reentry will remain open until the start of Level 10 at approximately 1:45 p.m. local time. Players entering at the end of registration will start with 25 big blinds. Levels move to 90-minutes for Days 2 and 3 with five levels played each day.
PokerNews will be on site with continued coverage until a champion is crowned on Sunday, so keep your browsers locked right here.
The WPT Five Diamond World Poker Classic is a $10,400 buy-in, $5 million GTD tournament that runs from October 19-23. WPT Five Diamond is the longest-standing recurring WPT tournament, taking place at Bellagio since 2002. It has endured the test of time, and holds unique historical significance as the starting point for the World Poker Tour. PokerNews will be offering daily content from the event, so stay tuned for more big WPT recaps, stories, and more!
*Images courtesy of WPT/Joe Giron.