Dreaming of Las Vegas and the World Series of Poker? Wanna be the next Main Event champion? Trust us, you're not alone.
The poker world is counting down the days until the 2022 World Series of Poker (WSOP) begins on May 31, and you could be part of it!
Although the details of the full schedule are yet to be released, including the jewel in the WSOP's crown — the WSOP Main Event — that doesn't mean you can't win a Main Event seat right now over on ClubGG!
"From this month onwards, there will always be at least 1 WSOP Main Event seat to be won every month until further notice at ClubGG," ClubGG Business & Operations Head Dom Choi told PokerIndustryPRO.
ClubGG World Series of Poker Main Event Qualifiers
ClubGG are looking forward to welcoming its qualifiers to the Main Event for the second year in a row, after seeing Vasu Amarapu narrowly miss out on making the final table, finishing 13th in the 2021 WSOP Main Event.
"I read an article on PokerNews, and right away I downloaded the app," Amarapu told PokerNews last year. "The steps were very clear."
He won his WSOP Main Event seat on ClubGG after signing up and paying the $50 membership fee, turning it into a $470,000 payday.
Another lucky player was Francisco Estrada who was one of the first players to win his Main Event seat with ClubGG.
He said that winning a Main Event seat was a "surreal" experience. Before the tournament, he said that he was looking forward to playing the Main Event, and that any cash would be for his daughter.
Well, just like Amarapu, Estrada managed to cash in the 2021 WSOP Main Event. He finished 705th in the tournament for a $17,500 cash.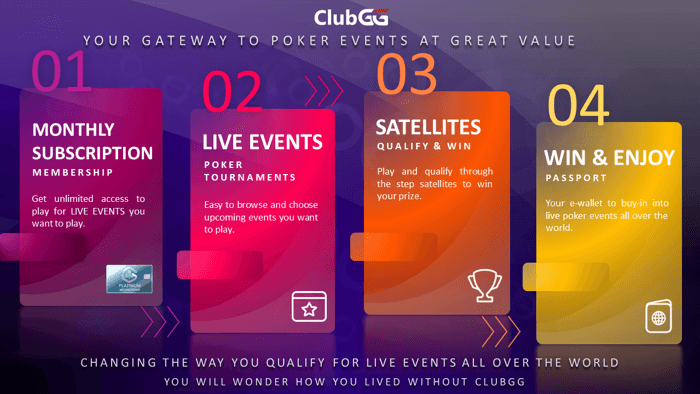 Win Your WSOP Main Event Seat
The journey to a World Series of Poker Main Event seat through ClubGG takes place over three stages.
Stage 1 – Big Field Tournament
Stage 1 of your journey to Las Vegas is a big-field online poker tournament, just like any other big tournament you might have played before.
If you're a poker player, and know your way around poker tournaments then it shouldn't be too hard for you to play in one of these and make it through to Stage 2.
And don't worry! If you think your Las Vegas dreams and hopes of making the Main Event final table are up in smoke if you don't make it out of Stage 1, fear not! You can have unlimited tries at Stage 1 of winning your Main Event Seat, with Stage 1s running every hour over on ClubGG.
Bigger? Better? Bounty? What Could Be Different in the 2022 WSOP Schedule?
Stage 2 – Sit & Go
Stage 2 is is a nine-handed Sit & Go tournament with one Stage 3 ticket in the prize pool guaranteed for every nine players in the Sit & Go.
A nine-handed Sit & Go has one Stage 3 ticket guaranteed, whereas a 90-handed Sit & Go guarantees 10 Stage 3 tickets.
If you cash in one of these tournaments, then you are one step closer to the World Series of Poker and only the Stage 3 tournament stands between you and that Main Event seat.
Free to Play Slots
---
Stage 3 – The Grand Finale
Stage 3 takes place on February 26 at 18:30 ET/ 23:30 GMT with a prize pool of $30,000. That's three $10,000 World Series of Poker Main Event seats available to win for players who make it through to Stage 3.
All stages are No-Limit Hold'em, just like the Main Event, and each tournament takes place in the ClubGG app which you can download and play right now through PokerNews.
---
Top Stories of 2021, #10: ClubGG Makes a Splash in the Poker World
---
Download ClubGG
Don't let your dreams fizzle out in February! Start your journey to the 2022 WSOP Main Event final table before spring has even sprung! Every hour a new Stage 1 tournament is taking place in the ClubGG app offering you the chance to win a seat to this year's Main Event.
And if you don't fancy the Main Event, then why not check out any of the other tournaments that ClubGG offer satellites to including the MSPT, Prime Social or Battle of Malta!
You can join Club PokerNews for free by downloading the app via our links. You will receive 100,000 chips completely free of charge and get to play in free cash games – including No-Limit Hold'em, Pot-Limit Omaha, and 5-Card PLO – plus we have regularly scheduled tournaments where you get to take on PokerNews writers and staff, who are easily identifiable by the "PN" in their alias.
Sharpen your skills at Club PokerNews before signing up for a monthly subscription to ClubGG and winning your way to the 2022 World Series of Poker in fabulous Las Vegas.
Additionally, every player who downloads the ClubGG app through PokerNews can join Club PokerNews and receive 100,000 in free chips to play with.
Try ClubGG for free? Here's how to Join our FREE Club PokerNews
Do I have to provide my real name at ClubGG?

You will need to provide your real name only if you have won the WSOP Main Event Seat. ClubGG requires it to register you to the LIVE tournament in Las Vegas, verify your identity for prize claim eligibility, and submit the winner's list to regulators.
​
I reside in a territory that's on the exclusion list. What can I do?

Playing from countries/territories listed in the 'Excluded Territories' list in Prize Eligibility means you cannot participate in this promotion. If the territory where you reside does not allow for sweepstakes games, it is deemed ineligible. If you somehow win and, upon verification and checking of requirements you are deemed ineligible, the prize will be forfeited in its entirety.
​
Can I win multiple seats into the WSOP Main Event through ClubGG?

No, there's a limit of one (1) Prize Package per Member player ID. A winner is not entitled to any surplus between actual prize value and stated prize value. The Prize Package is non-assignable, non-transferable, and is not redeemable for cash. If you have won a seat, you cannot win another.
​
I have multiple tickets, what can I do with them?

With Stage 2 tickets, you can enter as many Stage 2s as your tickets last. Having multiple 'Final Stage' tickets only means you can play the following 'Final Stage' without having to go through Stages 1 and 2 again. You can only enter each 'Final Stage' once. Final Stage tournaments are held in a Freezeout format (Single entry only).
Why is the WSOP Promotion 21+ while the site says 18+?

You must be 21 years of age or older as of the entry date. This promotion is 21+ because of the minimum legal age required to participate in the World Series of Poker.
​
I've won a WSOP seat, does it also include airfare/hotel?

All arrangements and expenses associated with travel to and from the World Series of Poker Main Event tournament and accommodations, ground transportation, and any other incidental expenses incurred in connection with the World Series of Poker Main Event tournament are the sole responsibility of the Prize Package winner.
Do I have to pay for ClubGG and/or Club PokerNews?

No, ClubGG and Club PokerNews are always free to play. You can play poker for free and play poker with your friends on the app. To qualify for live events around the world, you need a Platinum subscription at $49.99 a month.
How much is the Platinum Subscription at ClubGG?

The Platinum subscription costs $49.99 per month. You have unlimited access to Stage 1 qualifiers with the subscription to try and qualify for the WSOP Main Event.