The World Poker Tour (WPT) made a German recreational poker player's dream come true Wednesday night. Christophe Osse, perhaps the most passionate Steve Aoki fan in the world, won a sit-n-go tournament inside the famed DJ's Las Vegas "playhouse" (home) and earned some incredible prizes and memories that will last a lifetime.
Aoki, the WPT's newest ambassador, hosted the game for five lucky contestant winners who all received a free flight and hotel at the Wynn Las Vegas. The winner took back to Germany a $10,000 WPT passport, which can be used as a buy in for any future World Poker Tour event. Additional gifts, including 1-of-1 Aoki clothing and WPT passports were handed out to others who cashed in the nine-player sit-n-go.
Phil Ivey Competes against Contest Winners
Phil Ivey, Aoki's neighbor, stopped by to compete in the game and was joined by five contest winners, Maria Ho, and Vince Van Patten. The other four contestants were Mid-States Poker Tour (MSPT) champion Dan Sepiol, Las Vegas poker pro Kevin Osta, and a couple from New Jersey, both of whom improbably won the contest separately — Angela Santamaria and Zlatan Kilmenta.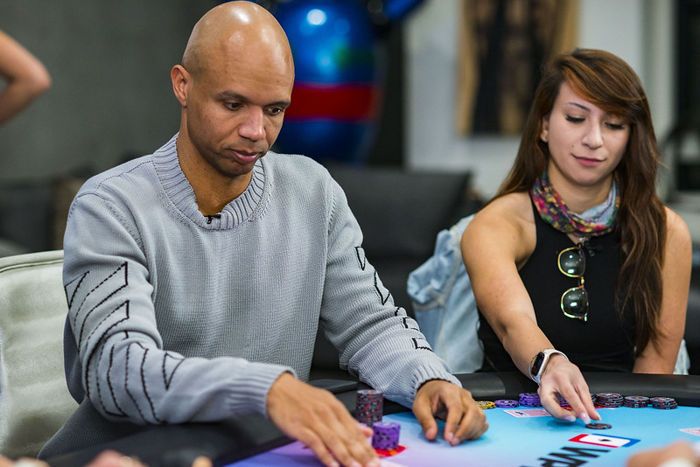 Ivey took no prisoners early on and busted Aoki first, earning the 1-of-1 jacket off Aoki's back from his personal clothing line as a bounty. Sepiol, who lives in Las Vegas, bubbled but still received an exclusive WPT poker chip set as a consolation prize (and, of course, a free room at Wynn). Osta and Osse ended up heads-up, with the latter taking down the title and the former receiving a $5,000 WPT passport.
Dream Came True
Osse was brought to tears of joy upon finishing off the game as the last person standing. He told PokerNews it was a "dream come true just to be in Steve's house."
"I've been to 28 shows of (Steve Aoki) and the first two shows I didn't get caked," Osse said.
Aoki's trademark act during a show is to throw cake at his fans. Osse, who won a video contest through Instagram to earn the trip to Las Vegas, has been caked 26 times in venues all across the world. His favorite show of them all?
"That's a tough one, I'd have to say Tomorrowland in Belgium," the Aoki super fan decided.
He also owns an enormous Aoki memorabilia collection and has multiple tattoos representing the artist. Winning the game was just a bonus for Osse. Just being there and playing poker against his hero was all he could have asked for. As for which upcoming WPT event(s) he'll use his passport to enter, he said, "I'm not sure yet, I'll have to look at the schedule."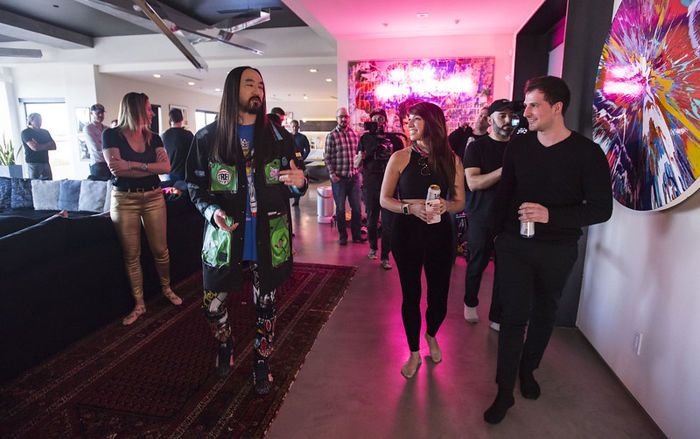 "I can't even describe it in words," he said when asked to describe his experience at Aoki's house. "I'm just here as a fan. It was a great experience."
He also enjoyed competing against some poker greats and was proud of outlasting the great Phil Ivey.
"Playing with Phil Ivey was great. I've seen him so many times on German TV and now I'm sitting with him on the table, and I won that table. This is pretty awesome."
Osse is tatted up on his arms and legs with artwork depicting his interests and places he's visited. One of those places is Iowa, a midwestern state he's fallen in love with, along with the University of Iowa Hawkeyes football team.
Although he's lived in Germany his entire life, the Aoki home game champ has become quite the enthusiastic Hawkeye fan and enjoys watching Iowa games when they're on TV back home. In January 2017, he attended Iowa's Outback Bowl game in Tampa, Florida against the University of Florida. Unfortunately, for him, the Hawks were blasted by the Gators 30-3.
"Go Hawks," he said with a smile.
Following the conclusion of the poker match, Aoki brought out a personal sushi chef and treated everyone to a delicious meal.
*Images courtesy of WPT/Joe Giron.