Steve Aoki is more than just an iconic music DJ and record producer. He's also a passionate poker player and an ambassador for the World Poker Tour (WPT).
On Wednesday evening from inside his Las Vegas "playhouse," the 44-year-old celebrity hosted a WPT-sanctioned home game for five lucky contest winners where PokerNews caught up with him for an exclusive sit-down interview. Christophe Osse, a recreational player from Germany, took a 15-hour flight to defeat a table that included poker greats Phil Ivey, Maria Ho, and Vince Van Patten. In doing so, he received a $10,000 WPT passport.
Read about Christophe Osse's win here!
Assessing Dan Bilzerian's Poker Skills
Following Osse's win, we spoke with Aoki to discuss his musical career, and also a controversial poker topic — just how good is his friend Dan Bilzerian really at poker?
"A lot of people don't realize this, but (Dan Bilzerian) is a great poker player," Aoki said of his long-time pal.
Bilzerian is a GGPoker ambassador and claims to have won upwards of $50 million playing poker throughout his lifetime. Much of that money has, by his account, come against billionaire Alec Gores, whom he's offered up a $100 million heads-up challenge to, but still hasn't received an acceptance.
"Before (Bilzerian) was a celebrity, he was a poker player," says Aoki. "He was always at the tables playing big games back in like 2006 when I first met him. When I was getting into poker, I didn't know him too well, but I knew he was a big high-stakes poker player."
Bilzerian's poker skills to the mainstream poker audience have long been questioned, but Aoki, who said he began playing cards back in 2004, says that the social media playboy has game. As for Aoki's passion for this industry, that didn't come when the WPT hired him last month. He's been competing on the felt for many years.
"One of my very close friends in 2004 was an avid poker player," the WPT ambassador said. "He was kind of a DJ guru, and I looked up to him a lot as far as guidance. He was kind of my big brother, and he played poker all the time. So, he got me into the world."
"We would DJ together and then after our sets, we would go to Commerce Casino and play."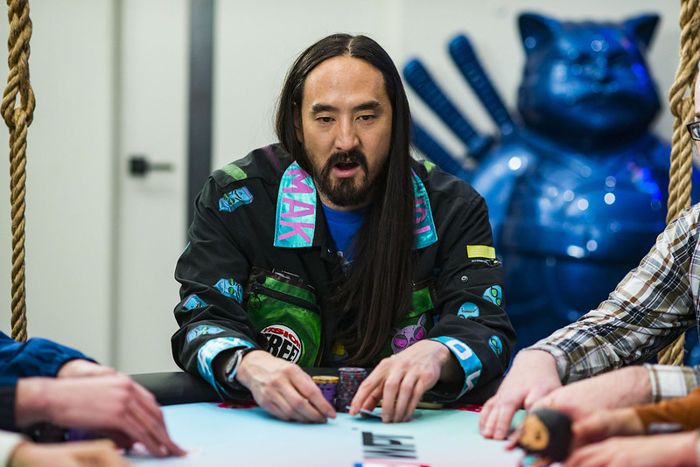 Aoki is the son of Rocky Aoki, a wealthy restaurateur who founded the popular Japanese cuisine restaurant chain Benihana. Despite coming from wealth, money wasn't just handed over to the musical genius. In his early DJ'ing days, Aoki would take his daily pay to Commerce Casino in Los Angeles to grind some low-stakes cash games.
"I'd grind it out at the $1/$2 table and $2/$5, that was my game at the very beginning because back then when I was DJ'ing in 2004/2005, it was like a couple hundred bucks."
Musicians Steve Aoki Enjoys Collaborating With
Aoki's moved up in stakes thanks in large part to his career skyrocketing in the late 2000s. Known for his acrobatic crowd stunts and signature cake throwing at fans, the American DJ has toured all over the world, performed in the hottest nightclubs in Las Vegas, and collaborated with international superstars such as BTS and Snoop Dogg. Who would he love to work with in the future?
"It was a dream to work with Chester, I would love to work with Linkin Park, in the 2000s I was talking about it, and I ended up not only doing one but two songs with them," Aoki answered. "As far as singers now, to work with Post Malone, just love what he's doing. To work with Drake, The Weeknd, love what they're doing. To work with Thom Yorke would be incredible."
"There's just so many in the hip-hop world, I already made a record with Snoop, but I'd like to continue making some bangers with him. It's not only about new names, it's about building on with the ones I already have a great friendship with and a fluid relationship with."
Aoki continued to say that he'd love to collaborate with Korean pop sensation BTS again. The two icons of the music industry have produced three songs together and more could be in store in the near future. In 2017, the duo released the hit single "Mic Drop," which now has over 1.1 billion views on YouTube.
Music is more than just a career for the poker enthusiast — it's a lifestyle. Aoki said he knew that music would lead him to a lifetime of satisfaction and wealth by age 14.
"Music grabbed me by my soul, and it pulled me in and it never let go, like no joke," Aoki explained. "When I found punk and hardcore, which was the first kind of music where it became my lifestyle. When I say lifestyle, I mean everything. The food I ate was around what everyone in that scene ate, to how I dressed, the clothes I wore, the friends I chose, the activities I did."
Respecting the Grind
---
Free to Play Slots in the US
Aoki's spent countless hours over more than 25 years doing what he calls "contributing to the scene," meaning he puts in the time and effort to improve the music industry.
"That's where you get your social points and that's where you get your respect," Aoki said of the hard work he put into music at a young age. "And that's all I cared about as a kid.
Growing up, all he could think about was music. Every great musician has someone or a group of talented individuals who provide their inspiration. When Aoki began learning the ropes, he found inspiration from a unique source.
"Some of the biggest inspirations were kids my age doing the same thing."
He fell in love with music as a youth and witnessed his first concert at 8 years old. Who'd he see? None other than the "King of Pop," Michael Jackson.
"I looked up from the nosebleed seats and said, 'one day I'm going to be there one day.'"
He's now playing "there" in venues all over the world and regularly in Las Vegas.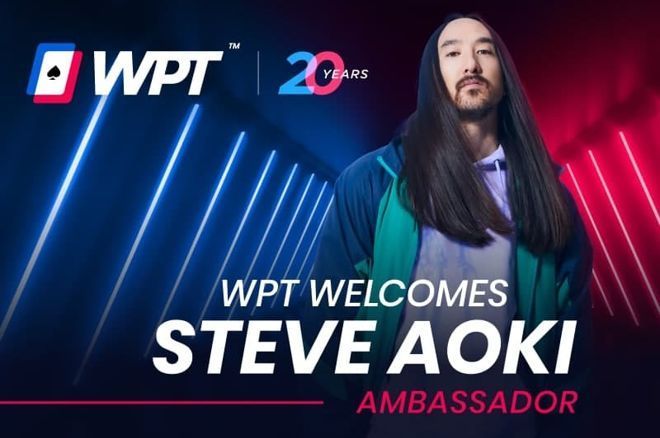 *Images courtesy of WPT/Joe Giron.