Phil Hellmuth reached his eighth high roller final table since October on Tuesday, but the "Poker Brat" couldn't finish off US Poker Open Event #6: $15,000 8-Game with a title thanks to a mild cooler in Razz against the champion Tamon Nakamura.
Nakamura, who entered the 2022 US Poker Open never having claimed a high roller tournament victory, won his second event of the series. The Japanese poker player also took down Event #4: $10,000 Big Bet Mix for $169,600 on Sunday. His second victory of the week inside the PokerGO Studio in Las Vegas paid $239,700 for beating out a field of 47 entrants.
US Poker Open Event #6 Final Table Results
| Place | Player | Prize |
| --- | --- | --- |
| 1 | Tamon Nakamura | $239,700 |
| 2 | Phil Hellmuth | $155,100 |
| 3 | Ben Yu | $105,750 |
| 4 | Bryan Micon | $77,550 |
| 5 | Damjan Radanov | $56,400 |
| 6 | Scott Seiver | $42,300 |
Hellmuth Continues High Roller Mastery
Despite repeated criticism about his abilities, Hellmuth has proven many critics wrong since the start of the 2021 World Series of Poker (WSOP). After setting a single-series WSOP record with seven final table appearances, all in non-hold'em events, he reached yet another final table on Tuesday.
The 16-time WSOP champion who won a bracelet in October entered the final table as the second smallest stack, barely ahead of Nakamura. Against the odds, those two would end up battling it out heads-up for the title.
They reached the final two against a tough final table that included future Poker Hall of Famer Scott Seiver, high roller crusher Ben Yu, and former poker pro turned cryptocurrency investor Bryan Micon.
Don't miss these free to play poker games
Hellmuth and Nakamura, however, were the ones who ran the hottest and ran all over the final table. When heads-up play began, after the Event #4 winner hit a lucky set on the river to bust Yu, Hellmuth held a slim chip lead.
The match didn't last long thanks to a marginal Razz cooler. With the limits at 200,000/400,000 and a 50,000 ante, Hellmuth was the bring in (50,000) with
in the hold and showing
, a strong heads-up starting hand. Nakamura, with
in the hole and
showing, completed to 200,000.
The tricky Hellmuth then raised it and his opponent called. Hellmuth received a
and bet and was called by Nakamura, who picked up a
.
On fifth street, the tides turned as Nakamura hit a
, whereas Hellmuth received a
. Nakamura, with two cards left to complete a seven-low, bet out this time (400,000) and was called.
Sixth street brought a
for the eventual champion and his opponent paired the
. Nakamura bet and was called again. The Japanese poker player made his seven on seventh street with the
and bet. Hellmuth, who hit a
to make an eight-low, was not only priced in to call but also had a strong hand.
The 3.7 million chip pot gave Nakamura a 2.5:1 chip lead. He'd build that lead up even further before getting lucky one more time.
Nakamura Finishes it Off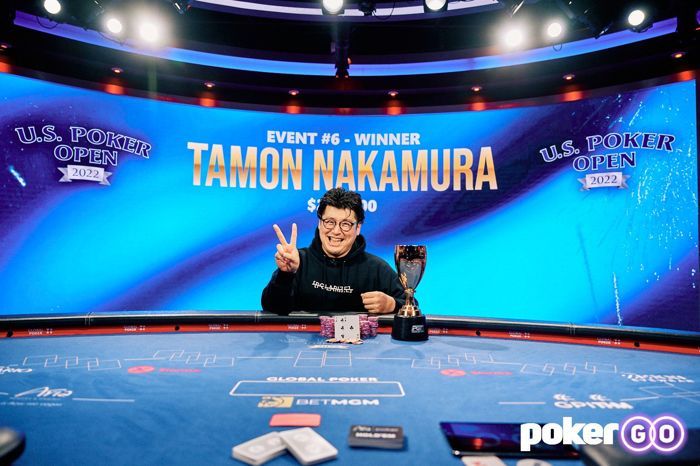 In another crucial hand, all the money was in the pot with Hellmuth exposing
, heavily favored against
. Both players caught a
on fifth street, and then Hellmuth paired the
while his opponent hit the
to make a 10-7.
"Bare down, people, there could be some expletives coming," PokerGO commentator Maria Ho joked as the players awaited seventh street.
Nakamura, who paired his
, didn't improve, leaving it all up to the final card Hellmuth received, which was the
, small enough to keep the "Poker Brat" alive.
Once again, Nakamura would regain a massive lead shortly after right to where they were before the all in hand occurred. Down to just three big blinds in limit hold'em, the 1989 world champion was all in preflop with
against
.
The board ran out
, and ace-high took it down to finish off the tournament. A gracious Hellmuth, who received $155,500 for second place, shook Nakamura's hand and said, "good game." There was no blow-up or meltdown on this day from the "Poker Brat."
Jeremy Ausmus, who won Event #5, earned his fourth cash of the series, the only player to do so. He bubbled the final table in seventh place for $28,200.
Remaining 2022 U.S. Poker Open Live Stream Schedule
| Date & Time | Event |
| --- | --- |
| Wednesday, March 23, at 4 p.m. ET (1 p.m. PT) | Event #7: $15,000 NL Hold'em |
| Thursday, March 24, at 4 p.m. ET (1 p.m. PT) | Event #8: $15,000 Pot-Limit Omaha |
| Friday, March 25, at 4 p.m. ET (1 p.m. PT) | Event #9: $25,000 NL Hold'em |
| Saturday, March 26, at 4 p.m. ET (1 p.m. PT) | Event #10: $25,000 Pot-Limit Omaha |
| Sunday, March 27, at 4 p.m. ET (1 p.m. PT) | Event #11: $25,000 NL Hold'em |
| Monday, March 28, at 4 p.m. ET (1 p.m. PT) | Event #12: $50,000 NL Hold'em |
Check out the PokerNews US Poker Open Hub here!
*Images courtesy of PokerGO.