There was a Lithuanian one-two in this week's GGPoker Super MILLION$, with Dominykas Mikolaitis and Gediminas Uselis navigating their way through a 197-player strong field and finding themselves heads-up for the lion's share of the $1,970,000 top prize.
When the dust settled after an intense two hours of final table action, it was Mikolaitis who emerged victoriously, doing so with a cool $400,423 in prize money and what is his second GGPoker Super MILLION$ title.
GGPoker Super MILLION$ Final Table Results
| Place | Player | Country | Prize |
| --- | --- | --- | --- |
| 1 | Dominykas Mikolaitis | Poland | $400,423 |
| 2 | Gediminas Uselis | Mexico | $313,965 |
| 3 | LJoseph62 | Canada | $246,175 |
| 4 | Simon Mattsson | Norway | $193,022 |
| 5 | Wiktor Malinowski | Macau | $151,346 |
| 6 | Niklas Astedt | Norway | $118,667 |
| 7 | Mario "[email protected]" Navarro | Andorra | $93,045 |
| 8 | William "COL_Moutarde" Blais | Canada | $72,955 |
| 9 | Yuri Dzivielevski | Brazil | $57,203 |
It took almost three-quarters of an hour before the final table lost its first player, and Brazilian superstar Yuri Dzivielevski was that player. The Brazilian min-raised to 120,000 with ace-jack in the cutoff, Simon Mattsson three-bet to 298,000 with pocket tens from the button, then called when Dzivielevski ripped it in for 1,044,809. It was one of tournament poker's many coinflip scenarios, and it went Mattsson's way courtesy of a king-high board.
William "COL_Moutarde" Blais joined Dzivielevski on the rail ten minutes later. "LJoseph62" min-raised to 140,000 from middle position with jack-nine, and Blais called from the big blind with king-queen. A ten-queen-ten flop with two clubs saw Blais check-raised a 70,000-continuation bet to 242,590, and LJoseph62 called. The turn brought the king of diamonds into play, improving Blais to two pair but LJoseph62 to a straight. Both players checked, and the river was the three of diamonds. Blais has less than a pot-sized bet in his stack, but he checked. LJoseph62 bet enough to set Blais all-in, and Blais called off his 714,488 stack, only to discover two pair was no good.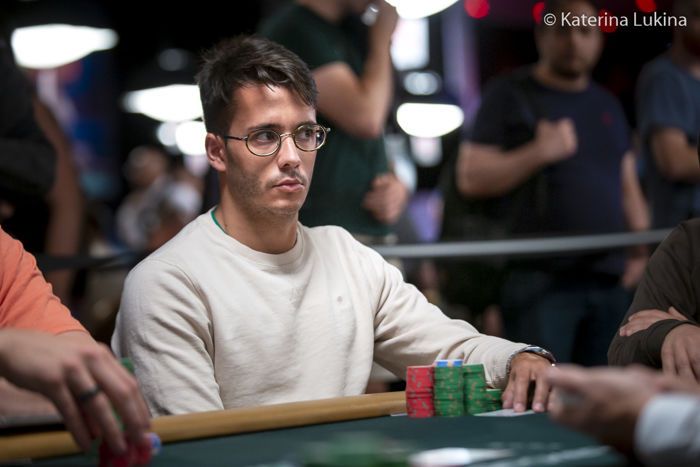 The final seven became six with the untimely demise of Mario "[email protected]" Navarro, who had been nursing a short stack for some time. Everyone folded to Navarro in the small blind, and he open-shoved for a shade over six big blinds with ace-trey. Mattsson called with pocket eights in the big blind, and sent Navarro to the showers when the board ran out ten-high.
All six active players were now guaranteed a six-figure score for their efforts, and Niklas Astedt got his hands on the first such payout. Astedt, a five-time Super MILLION$ champion, sat down at the final table eighth in chips, but crashed out in sixth. Uselis min-raised to 160,000 from the hijack with a pair of tens in the hole, and Astedt defended his big blind with ace-deuce. The seven-trey-four flop saw Astedt initially check, Uselis bet 80,000, and Astedt check-raise all-in for 496,178 with his overcard and gutshot straight draw. Uselis called, and his tens held through both the turn and river.
It did not take too long for the final table to lose another player because Wiktor Malinowski bowed out. Malinowski never managed to get going after sitting down at the final table with the shortest stack, then being unable to find any spots to commit his chips. A spot finally appeared during the 100,000/200,000/12,500a when mikolaitis jammed from the small blind, and Malinowski called off his 4.2 big blinds with queen-trey. Unfortunately for the three-time Super MILLION$ champion, Mikolaitis had made his move with pocket aces, and Malinowski was drawing dead by the turn.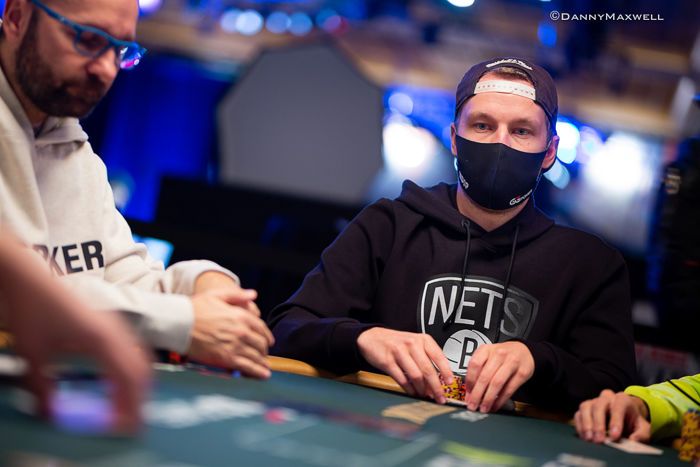 Mattsson's latest Super MILLION$ deep run ended in fourth place. The reigning WSOP Online Main Event champion called off his 778,946 chips from the big blind with king-six after Mikolaitis open-shoved from the small blind with what turned out to be jack-four; of course, jack-four has been in the headlines for the past fortnight! A jack on the flop sent Mattsson to the sidelines.
Heads-up was set when LJoseph62's tournament ended at the hands of Uselis. Mikolaitis min-raised to 240,000 with ten-nine on the button, Uselis called with pocket eights in the small blind, only for LJoseph to jam for 2,180,563 with queen-jack. Mikolaitis ducked out of the way, but Uselis called, and it was off to the races. Uselis flopped a set before improving to a boat on the river, leaving two Lithuanian stars heads-up for the title.
Mikolaitis held a more than two-to-one chip lead over Uselis, and Uselis never managed to claw his way back into the battle. The final hand saw Mikolaitis open to 350,000 with eight-seven, Uselis call with king-ten, the flop fall four-six-king, and both players check. The five of hearts on the turn improved Mikolaitis to a straight, and his job was to now extract as many chips as possible from his fellow countryman. Uselis made that task easier by leading for 770,000 then calling Mikolaitis' raise to 1,680,000. The river brought the nine of spades into view, putting three spades on the board. Uselis checked, Mikolaitis put his opponent to the test for all of his chips, like he had done on countless occasions throughout the final table, and Uselis tank-called off his 5,380,135 stack only to be shown his top pair was an expensive second-best hand.