High Stakes Poker launched its Season 9 debut on PokerGO Monday evening, and those who watched were intrigued by the show's newest participant, Kim Hultman of the LetsGiveItASpin Twitch and YouTube channels, who was sort of a loose cannon at the table.
During the filming of the legendary cash game poker show, PokerNews caught up with Hultman, a casino streamer from Sweden who now lives in Malta, to find out what he's all about and see just how much experience he has playing poker.
High Stakes Poker, which first aired on the Game Show Network in 2006, isn't just about the big superstar poker pros such as Doyle Brunson and Daniel Negreanu. The non-poker celebrities and wealthy entrepreneurs have also made the show entertaining.
Check out our HSP Season 9, Episode 1 Recap here
Former Online Poker Player
Hultman began his journey in the gaming industry many years ago as a poker player. He played poker for a living up until 2015 when he stumbled upon a new hobby, streaming slot machine games.
"So I started online at Everest Poker, they had freeroll limit hold'em tables, back in 2006/2007," Hultman told PokerNews. "If you'd win one of those tables, you would win 5 cents. And then I took the 5 cents to a bigger table, and if you win that, you'd get 25 cents. And then I'd take that to bigger tables. I started through freerolls."
Hultman played online poker during High Stakes Poker's early years. He vividly recalls watching the show back in the day.
"It was my dream to be on the show, and that's why I'm here now," the Swedish gambler said.
Years later, he finally got his opportunity to compete on the poker show he always loved. During Monday's first episode, he was quite active, far more so than Phil Ivey, who folded all but one hand. But the experience of competing against the 10-time WSOP bracelet winner was quite thrilling to the slot machine player.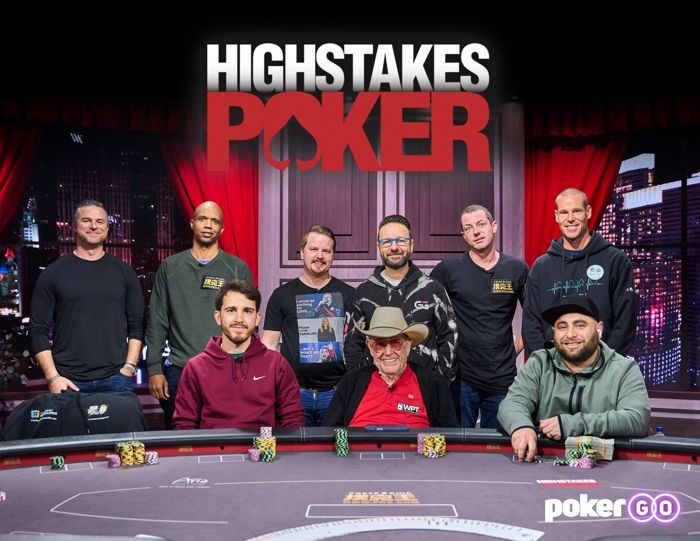 "Phil Ivey has always been the G.O.A.T. to me," he said. "I was star struck to play with him. Negreanu, Doyle, Patrik Antonius, they're all great."
Hultman played a couple of memorable hands during Episode 1 of Season 9, both of which he'd probably like to forget. In the first, he folded the
on a four-spade paired board on the river to Negreanu'sover-sized bet with trips (no flush).
The second hand was against Ivey in which Hultman three-bet with
versus
. Hultman flopped top pair but checked in position on the button and allowed Ivey to hit his deuce on the turn, and then was unable to fold to a large bet on the river.
"I'm very happy with my play, especially considering his hand," Hultman said. "Maybe I should've folded the river but he was really polarizing himself."
What is LetsGiveItASpin?
Hultman was joined at the PokerGO Studio for the filming of High Stakes Poker by some fans of his YouTube channel whom he's become friends with. Those fans showed up to support their favorite casino streamer in action at the high-stakes poker table.
The slot machine gambler founded the LetsGiveItASpin YouTube page, which has over 90,000 subscribers, in 2015. His channel has surpassed 40 million views over hundreds of videos. He also has a Twitch account with over 61,000 followers.
Hultman is similar to poker streamers except he plays slot machines instead of poker, but the reason why his social media channels have been so successful is similar to the top poker streamers.
"I always play with my own money, and we also promote responsible gaming. So, I think that they see that I'm fun, but I'm genuine as well."
"I've always had very strong values," Hultman said when asked why his channel has a larger audience than some other casino streamers. "I always play with real money, I always play with my own money, and we also promote responsible gaming. So, I think that they see that I'm fun, but I'm genuine as well."
Playing slots for a living is a losing proposition, in most cases. The house has an edge and the machines are rigged in the casino's favor. But he's still able to earn a nice living gambling on slots because he knows how to monetize his social media presence and he's worked the system.
"From the start, the casinos gave me deposit bonuses which has a positive expected value," he explains. "But I also monetize it through affiliation, so if you sign-up (for an online casino) through me, I will get a kickback."
The Swedish gambler's most viewed video is a clip from a wild 2016 slot session in which he turned 192 kr ($20 USD) into over 32,000 kr ($3,385 USD) on one bonus game. That video has surpassed 822,000 views, but the money he was playing for at the time is pennies to him now.
Hultman says he loves poker — more so live than online — and that we might see him in some big events down the road. For now, he's still grinding away in a career he enjoys that also more than pays the bills.
*Images courtesy of PokerGO.