If you paid attention to tournament poker in 2021 you've no doubt heard the name of Jesse Lonis. After experiencing a career year with $864,486 in tournament earnings according to The Hendon Mob, he certainly caught the attention of PokerNews. So, who was this breakout player that hit six figures on the World Poker Tour (WPT), flirted with a gold bracelet, and made a deep run in the 2021 World Series of Poker (WSOP) Main Event?
Lonis recently participated in his first-ever live interview by appearing on the PokerNews Podcast, which you can listen to here.
There's also a video of the interview at the bottom of this article. Below are some highlights from our chat with Lonis, who we predict is going to continue to climb the ranks and could very well become one of the best in the business.
The Lonis Poker Origin Story
Lonis grew up in Utica, New York, and was first introduced to poker by his grandmother, who was a Full Tilt Poker micro-stakes crushed.
"My earliest memories of playing poker were with my grandmother," Lonis shared. "She raised me when I was young and when I was like 10 or 11 years old, she used to play on Full Tilt Poker. I'm sure it was for pennies back then, but she'd take a lot of bathroom breaks and let me sit and play while she would use the bathroom. When she'd come back she'd usually have more than when she left."
Lonis' uncle was also fond of the game and occasionally hosted a home game tournament. Lonis recalled his first big win being in one of those $50 buy-in tournaments.
"I realized, wow, there's a lot of money that can be made playing cash games in poker."
"From there on I would randomly play with family and friends," he said. "When I was young I never thought I'd do this for a living, it was just more of a hobby."
When he turned 18, Lonis would pay the occasional visit to Turning Stone Casino, and then played some in college. Nothing serious though as he didn't have much money at the time.
"I didn't really get to progress my game until Rivers Casino in Schenectady, New York opened. They started getting a lot of traffic from New York City and the $2-$5 games played like $5-$10 games. I realized, wow, there's a lot of money that can be made playing cash games in poker."
It was then that Lonis sunk his teeth into cash games, which he successfully grinded for six or seven years before giving tournament poker a try just two years ago.
"It was in 2020 when I really started taking tournaments more seriously and put in a little more volume, and then obviously in 2021 I really started going after it," he said. "I had a nice score at the beginning of the year and it propelled me to be able to put more volume in. Good things happened from there, it kind of rolled in and now I'm in a groove."
Listen to Jesse Lonis on the PokerNews Podcast here!
Around 2019, Lonis had relocated to Oregon to take advantage of games on the West Coast.
"I had a bankroll I built up playing cash, like $60,000-$70,000, that I didn't want to take straight to Vegas. I was a little nervous I could go broke quick, I've heard too many stories," Lonis explained. "Let me move close so I can travel for tournaments and stuff. On the west coast there's just more of a variety of tournaments outside of Vegas … it was more exposure to the tournament scene. That was my first taste. After I started to have a few hits I thought I was ready to make the move [to Vegas], and then I had a newborn daughter. That was the final nail in the coffin, I couldn't be away every weekend in Vegas, I have to be home with her, so in August I bought a house here."
Indeed, in August of last year, he officially became a Las Vegas resident. A month later on September 30, he turned 26 years old as a new father, homeowner, and one of the hottest poker players on the circuit.
WPT Score Ignites Heater
Lonis' breakout score came in the 2021 WPT Lucky Hearts Poker Open $3,500 Championship when he finished fifth out of a 1,573-entry field for $223,895.
"Right around then is when I found out I was having a baby, so that was extra motivation there where I knew I really needed to lock in, take it serious, and make a deep run," Lonis recalled. "I actually satellited into that tournament for $400 … That just gave me the bankroll comfortability to play my style and be able to play other tournaments. It made every other spot a little easier moving forward."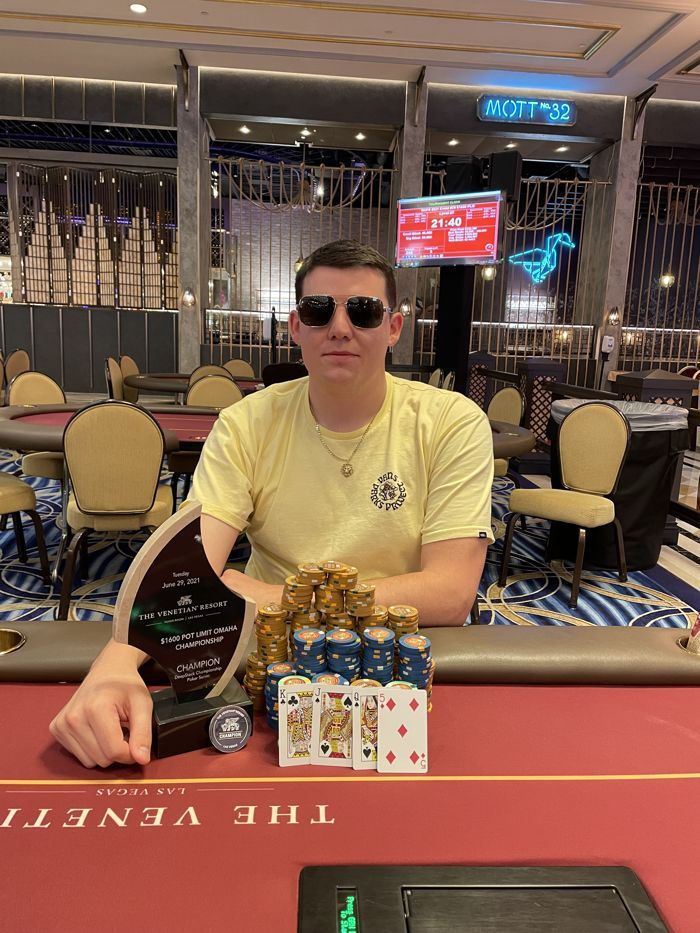 From there, Lonis notched several other scores including third in the Wynn Signature Series $1,100 NLH for $89,486, winning the Venetian $1,600 PLO Championship for $81,485, and second in the Wynn Summer Classic $1,600 PLO Bounty for $28,159.
That gave him some momentum going into the 2021 WSOP, and it didn't take him long to make a run at a bracelet. In Event #3: $1,000 NLH Covid-19 Relief Charity Event he finished runner-up to Jeremy Ausmus for $30,086.
"It gave me a nice little confidence boost going into the series," he said. "That was just a fun little tournament. It was quick, very turbo structure. To lose that one heads-up was not too bad because it was a small difference [in prize money]. It was cool to be at the final table and feel the aura of the lights on. Get the experience out of the way early. I wasn't mad to lose to Jeremy, he's such a good guy."
At the end of the series, Lonis made a splash in the WSOP Main Event finishing in 25th place for a career-high $241,800.
"It was everything you dream of as a poker player. Making a Day 7 is unreal," he shared. "On Day 4, I had JC Tran to my right and Kenny Tran to my left. They're OG, just great players. People know JC but Kenny Tran is one of the best too. He was very tough. I thought if I could make it through this day I can make it through any day. I needed up battling those guys and building a stack."
Eventually, Lonis ran out of steam and was eventually eliminated at the hands of Koray Aldemir.
"I got knocked out by the champions so I guess it can't be too bad when you get knocked out by the guy who won."
Don't miss these free to play poker games
What's Next for Lonis?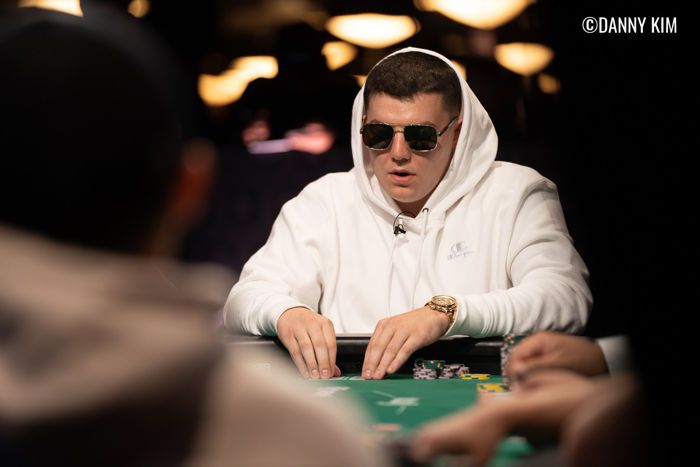 While 2021 proved to be a career year for Lonis, he's already primed to have a better one this year with more than $278K in tournament earnings in less than two months.
His scores include winning the Venetian DeepStack New Year's Extravaganza Event #43: $600 NLH for $58,301, second in the PokerGO Stairway to Millions Event #4: $8,200 NLH for $89,600, and sixth in the PokerGO Cup Event #4: $15,000 NLH for $58,500.
It's also likely to be the year Lonis not only takes his game to the next level but expands upon it.
"I'm learning mixed games right now," he revealed. "My goal for next year is to learn all the mixed games well enough to play in the $50K Poker Players Championship, it's just a pinnacle tournament. I've always wanted to play in that one."
In addition to learning new games, Lonis has set his sights on the high roller scene.
"This year I plan on definitely getting into it and playing the PokerGO events and all that," he said.
To help in that regard, Lonis is the latest pro to sell action on the relatively new PocketFives staking platform.
Going to start selling action for big events 10k plus on @PocketFives! First events will be the PokerGO cup startin… https://t.co/jWqmnciemh
"Usually $10K and below I'll do on my own," Lonis told PokerNews. "If it's $15K or higher I'm definitely going to sell action for them. If it's a small-field $10K I don't mind selling little pieces too … you're going to see me hopefully battling with the big boys."
Mark our words, it's only a matter of time before Lonis ships something big, be it either a WSOP bracelet, WPT title, or a big high roller score.
For more on Lonis and to share in his poker journey, follow him on Twitter @jesselonis.