The European Poker Tour (EPT) Prague is taking place right now, and someone who traveled across the pond to be there was Joe "Stapes" Stapleton, who commentates EPT broadcasts alongside James Hartigan. The famed duo is actually fresh off winning a Global Poker Award for their podcast, Poker in the Ears, and are excited to be reunited in person in the booth.
It was actually at the aforementioned awards that Stapes was nominated for Broadcaster of the Year, though he ultimately lost out to Jeff Platt.
"It is nice to be recognized," Stapleton recently told PokerNews. "I'm glad that where if I could only have won in one of the categories, I'm glad that it was for podcasts. Because that is not my win. That is a win for everyone who works in that show, for the people at PokerStars that, you know, at least have the continue letting us do it year in and year out."
He continued: "I was really glad to be able to win that, to be able to text James and my boss Francine and say we won. They both thought I was trolling, by the way, and then all they could focus on is that I lost the trophy."
Losing His Global Poker Award Trophy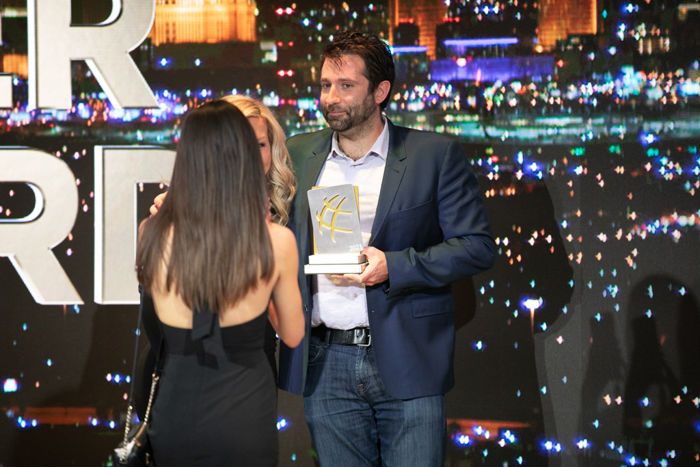 Indeed, the night of the show Stapleton misplaced the trophy.
"I didn't lose the trophy. I just want to be clear about that," he claimed. "You got people who grab and poke you. Do this, be in this photo. I didn't leave it alone for any longer than two hours. I come back and the trophy is gone. To be honest, I was completely unconcerned. It's not like if you lose the trophy you lose the award. Like the award still belongs to Poker in the Ears, no matter what happens. And I just went, you know what, my guess is like nobody stole it, right? Nobody stole the fucking trophy."
He continued: "My guess is somebody else picked up our trophy either knowing that I was irresponsible with it and they put it aside for us, or someone accidentally picked it up. And as it turns out, when all the dust settled, there was one trophy left behind. It was not the podcast trophy. It was the Tournament Director of the Year trophy, so logic dictated that Paul Campbell, winner of that award, picked our trophy."
Indeed, that proved to be the case and the situation was soon rectified.
Follow EPT Prague Live Updates here!
Returning to EPT Prague
Originally scheduled to take place in December 2021, the European Poker Tour (EPT) Prague was pushed to March. The festival is taking place right now and is being reported by PokerNews, which you can follow here. For Stapleton, the delay is actually a welcomed development.
"I absolutely love Prague. You know, people are always like, 'what's your favorite empty stop?' I can never really choose, but Prague is a very easy one to come to mind," he said. "Now, we're not doing it during Christmas time this year, which I think adds probably a little bit of extra charm to the city of Prague. But I've never been there, not in winter."
"You feel like you're in another place. Another time, even sometimes."
He continued: "So, I'm actually kind of looking forward to that. I don't know what the weather will be like in March. Maybe it will just be winter without Christmas. But Prague is a cool city for many reasons. It's very old, right? You really feel like you're in another country. You feel like you're in another place. Another time, even sometimes. And what I really like about Prague is that once you get outside, the Hilton's cheap, you know?"
Prague has been a staple on the EPT dating back to 2007, and Stapes has been to many stops over the year, where he's of course formed many memories.
"I remember I went out with this incredibly tall Czech girl who took me to like a club at midnight and I broadcast the next day. I was like, I really can't stay here any later, you know? You're like trying to figure out, like, if you're going to do anything after that. And she's like, let's just take over one more song. The song ended up being like 45 minutes long because it was some techno bullshit. I did end up going back to my room by myself after that."
As for actual poker in Prague, Stapleton cited two memories that really stood out. The first was Mikalai Pobal winning in 2019 to become just the second player in history to win two EPT titles, and the other was Hossein Ensan winning in 2015 and essentially introducing himself to the poker world before going on to win the World Series of Poker Main Event in 2019.
"That's probably the most memorable EPT for me as we were able to make him into such a character. And then of course, for him to then go on and win the Main Event, you're like, 'Oh, fantastic, this is great.' Now, like, I'm already I don't have to, like, cozy up to this guy now that he's won the Main Event, I'm already in, so I'm kind of a winner too, in that respect."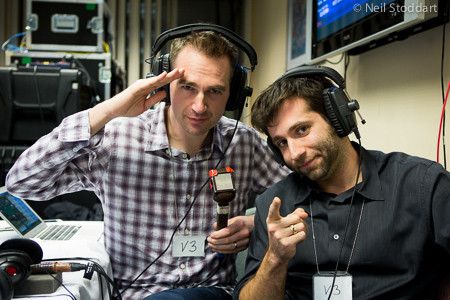 The EPT Prague will also mark the return of Stapes joining his longtime co-commentator James Hartigan in the booth, and believe it or not, that's what he's most excited about.
"I'm really excited about is doing live streams again with live poker players and with my live human counterpart, James Hartigan, being in the same room with me. The Stars team did a really fantastic job with the technology required to broadcast online poker over the last couple of years, but, you know, there's still a little bit of a delay. All the little technology glitches, like kind of their little but they add up. And so, to be able to sit next to James and have that sort of chemistry again, to be in the same room with him is something I'm looking forward to."
Poker fans can get more of Stapleton and EPT Prague coverage on the PokerStars Twitch Channel.
For more on Stapes, listen to his full interview on the PokerNews Podcast here:
*Images courtesy of the GPI Global Poker Awards.