The PokerStars European Poker Tour (EPT) is heading to London for the first time in eight long years, and PokerNews' live reporting team will be with you every step of the way, bringing you live and exclusive coverage of some of the festival's biggest and most eagerly anticipated events on the schedule.
You have to go back to 2014 to find the last time EPT London crowned a Main Event champion. EPT London was a main stay on the EPT since the tour's launch in 2004 and up to 2014 when the EPT had a change in strategy and direction. Now it is returning to the place famous for its black cabs, red double-decker buses, and cosmopolitan vibes, and we cannot wait to get started.
The 2022 EPT London festival runs from October 18-29 at the Hilton Park Lane, and you need to be aware that the series is cashless. Cash will not be accepted at the Hilton Park Lane. Instead, cash must be loaded onto a Hippodrome Card at the Hippodrome Casino. Alternatively, you can buy into any of the tournaments using a debit card, via your PokerStars account (com/eu/uk/fr only) or via Luxon Pay.
Please be aware you may need bank statements when using your debit card for the first time. In addition, it can take up to a week for bank wired funds to appear on your Hippodrome Card. Furthermore, a government-issued ID or passport is required for entry into the Hippodrome Casino.
EPT London Events PokerNews Is Covering
First up for the PokerNews Live Reporting special treatment is the £10,200 Mystery Bounty from October 18-19. This event runs alongside the UKIPT Main Event, which PokerNews is also covering.
Other events on PokerNews' radar include the £25,000 Single-Day High Rollers, the UKIPT High Roller, a £50,000 EPT Super High Roller, and, of course, the much anticipated EPT London Main Event.
We will also be on the ground throughout the £3,000 Mystery Bounty event from October 24-26 where someone will win a $30,000 PSPC Platinum Pass. A second Platinum Pass is awarded to the winner of a live "all-in shooutout," which is only open to players who qualify for UKIPT and EPT London online at PokerStars; get hitting those last-minute satellites!
| Dates | Event |
| --- | --- |
| Oct. 18-19 | £10,200 Mystery Bounty |
| Oct. 18-22 | £1,100 UKIPT Main Event |
| Oct. 20 | £25,000 Single-Day High Roller I |
| Oct. 21-22 | £2,200 UKIPT High Roller |
| Oct. 21-23 | £50,000 EPT Super High Roller |
| Oct. 22-28 | £5,300 EPT Main Event |
| Oct. 23 | £50,000 Single-Day High Roller |
| Oct. 24 | £25,000 Single-Day High Roller II |
| Oct. 24-26 | £3,000 Platinum Pass Mystery Bounty |
| Oct. 25 | £25,000 Single-Day High Roller III |
| Oct. 26-28 | £10,300 EPT High Roller |
| Oct. 27-28 | £25,000 High Roller |
Every Past EPT London Final Table Including Coren Mitchell's Famous 2006 Win
Past EPT London Champions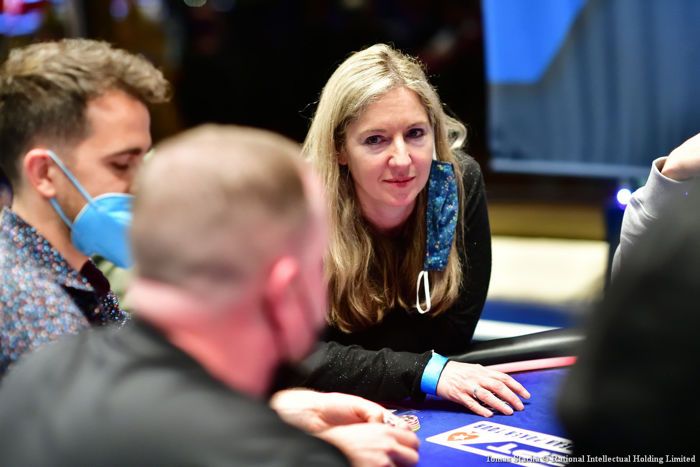 EPT London has always proved popular, and some of poker's most well-known names have returned home with the EPT London Main Event trophy under their arm.
John Shipley won the inaugural EPT London Main Event back in 2004; he collected £200,000 for his efforts that day. Other champions include Mark Teltscher, Victoria Coren Mitchell, Michael Martin (the first and only £1 million top prize winner), David Vamplew, Benny Spindler, Robin Ylitalo, Ruben Visser, and Germany's Sebastian Pauli, the latter essentially being the reigning champion as he triumphed in 2014. Will your name be added to the list of EPT London Main Event winners?
| Year | Buy-in | Entries | Winner | First-Place Prize (GBP) |
| --- | --- | --- | --- | --- |
| 2004 | £3,000 | 175 | John Shipley | £200,000 |
| 2005 | £3,050 | 242 | Mark Teltscher | £280,000 |
| 2006 | £3,550 | 398 | Victoria Coren Mitchell | £500,000 |
| 2007 | £5,400 | 392 | Joseph Mouawad | £611,520 |
| 2008 | £5,400 | 596 | Michael Martin | £1,000,000 |
| 2009 | £5,250 | 730 | Aaron Gustavson | £850,000 |
| 2010 | £5,250 | 848 | David Vamplew | £900,000 |
| 2011 | £5,250 | 691 | Benny Spindler | £750,000 |
| 2012 | £5,300 | 604 | Robin Ylitalo | £560,980 |
| 2013 | £5,250 | 647 | Ruben Visser | £595,000 |
| 2014 | £4,250 | 675 | Sebastian Pauli | £499,700 |