For the first time since July, Las Vegas poker rooms are no longer required to force customers to wear face coverings, and the mandate lift applies to most statewide businesses, Nevada Governor Steve Sisolak (D) announced Thursday morning.
The news comes just three days away from Super Bowl Sunday, one of the busiest times for tourism in Sin City each year. Hundreds of thousands of tourists are expected to flock to Southern Nevada this coming weekend, mostly from California, to get action on the NFL's championship game between the Cincinnati Bengals and Los Angeles Rams.
"Just like vaccines, masks are still a great tool that we have at our disposal," Sisolak said during a Thursday press conference. "I expect going forward to still see Nevadans and visitors utilizing masks when they are out in public."
Businesses are still allowed to require customers and employees to wear a mask, but it's expected that few businesses in the city will go that route.
Don't Scare Away the Tourists
Potentially losing Super Bowl bettors due to the mask mandate wasn't sitting well with area casinos. Many locals have voiced displeasure with the continued mandate that has been in effect for most of the past 23 months. In June 2021, Clark County lifted the mask mandate, but Sisolak brought it back a few weeks later due to an increase in COVID-19 cases.
There have been a few exceptions to the rule, one being that masks weren't required at fully vaccinated large gatherings. This applied to the 2021 World Series of Poker (WSOP), which only required face coverings for dealers, but not seated players. All players were forced to show proof that they'd been vaccinated against COVID-19 or they weren't allowed to compete.
During the WSOP and beyond, however, face masks were still required inside other Las Vegas poker rooms. Vaccination against the coronavirus has never been a requirement for guests at any Las Vegas casino, only for those competing in the WSOP.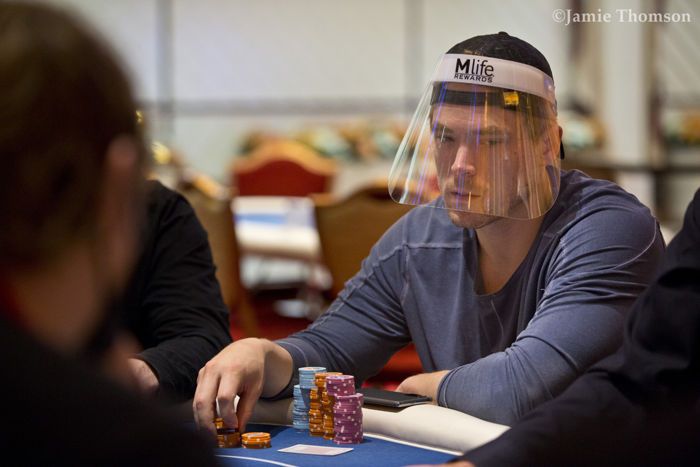 Current State of Las Vegas Poker
Las Vegas currently has 19 open poker rooms, down a dozen prior to the start of the pandemic in March 2020. Some previously popular card rooms such as Mirage and Green Valley Ranch remain closed, and the casinos don't have any plans to reopen the rooms any time soon, if ever. At GVR, the old poker room is now empty and unused.
But the biggest and most popular poker rooms in town have been back in operation since summer 2021. That includes Aria, Bellagio, Venetian, and Wynn, all of which reside on the Las Vegas Strip.
Effective immediately, poker players in Nevada are no longer required to wear a face-covering while seated at a poker table. There will likely still be a decent chunk of players in most cardrooms masked up, but they're no longer required to do so. This also applies to dining in restaurants, playing table games and slots, shopping, and visiting any business in the Silver State, except for the airport.
---
Free to Play Slots in the US