The day before attempting to defend his title in the 2022 Wynn Millions, Andrew Moreno made an interesting post on social media talking about why he didn't chip a big tournament he had won just over a week earlier.
The tournament was the Venetian Event #27: $2,500 Ultimate Stack, which attracted 542 runners and offered up a $1,233,050 prize pool. Moreno, who won the 2021 Wynn Millions for $1,460,106, went on to win the tournament for $242,293.
Moreno explained the situation in his post: "The word 'chop' got thrown around a few times. First, when we were 4-handed, I politely declined. Then again, when we were 3-handed. Once again, I respectfully declined. When I got heads up, the gentlemen proposed a chop and even offered to give me slightly more money despite having me out chipped 12 million to my 8 million. He was puzzled as to why I would decline a deal. I did so for two reasons."
Moreno then explained the first reason was that he thought he had an edge, while the second was because he wanted to "seize the opportunity for invaluable final table experience." Moreno went on to elaborate on "playing for it all" in the post, but PokerNews also took the opportunity to ask him about it during Day 1b of the 2022 Wynn Millions.
Follow our 2022 Wynn Millions Live Updates here!
"A lot of times in lower stakes buy-ins, dailies, and those sorts of things, people want to chop. A lot of those people tend to take shots in bigger tournaments, and I just recognized a lot of the people that get to the end, I've played with a few of them in these bigger events, they just lack the experience because they're always chopping."
He continued: "It can really cost you because the final three or four places, that's where all the money is, so if you have no experience between you always chop these dailies, I think it can come back to hurt you a lot more later. I don't think people really think about that when they chop because they're so focused on securing some cash."
Venetian Event #27: $2,500 Ultimate Stack Final Table Results
| Place | Player | Hometown | Prize |
| --- | --- | --- | --- |
| 1 | Andrew Moreno | Las Vegas, NV | $242,293 |
| 2 | Brent Hart | Inglewood, CA | $166,462 |
| 3 | Bret Wigal | Las Vegas, NV | $117,140 |
| 4 | Christina Gollins | Henderson, NV | $83,847 |
| 5 | Guillermo Sanchez Otero | United Kingdom | $63,502 |
| 6 | Timothy Pai | San Jose, CA | $47,472 |
| 7 | Barry Hutter | Hollywood, FL | $35,142 |
| 8 | Leonardo Valenzuela | Shepherd, MT | $27,127 |
| 9 | Noam Muallem | Las Vegas, NV | $21,578 |
Wynn Millions Title Defense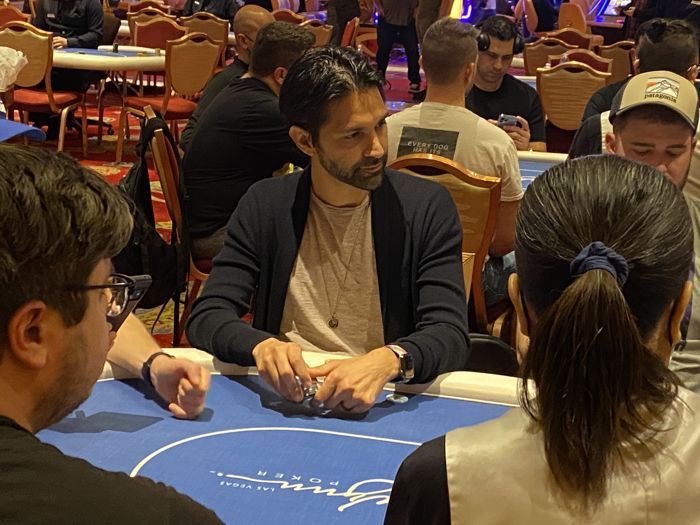 Ironically, Moreno did do a three-handed deal at last year's Wynn Millions final table, but to be fair, he was the short stack at the time and there were literally millions on the line. As for what it was like to be back where he had his seven-figure life-changing victory just months before welcoming his first child into the world with wife Kristy Moreno (formerly PokerNews hostess Kristy Arnett)?
"It's really surreal. It feels like a dream," he admitted. "I started my poker career here at the Wynn. They used to have the $3 chips for the $1-$3 no-limit game like 15 or 20 years ago. It's just kind of nice to have it come full circle all these years later."
As for his defense strategy, Moreno added: "I just take everything hand-by-hand. Anytime my hand goes too far in the future it doesn't serve me, so I just bring it right back to what's happening right in front of me. As the tournament progresses there's more noise with those sorts of things, like pay jumps or bubbles, but I really try to focus on every single hand."
For more on Moreno, check out the post-victory interview he did with PokerNews: