Back in December 2021, PokerStars announced the winner to their latest Dare2Stream contest, with Sebastian "peace&loove" Huber winning the competition and becoming the newest PokerStars Ambassador.
He also wins a Platinum Pass to the next PokerStars Players Championship for his efforts. He is the third Dare2Stream competitor to become a PokerStars Ambassador after Lasse "WisternJL" Jagd Lauritsen, Mark "Naigo1" Foresta and Keith "AccidentalGrenade" Becker.
Quick Guide to PokerStars Home Games; It Takes Just Five Easy Steps!
Becoming a PokerStars Ambassador
PokerNews sat down with Huber during the recent EPT Prague festival, who said that it was an unreal feeling to win the competition and see his streaming efforts rewarded.
"I was really happy," he told PokerNews. "When I found out, I just tried to think of the future and what I can do to become better and improve."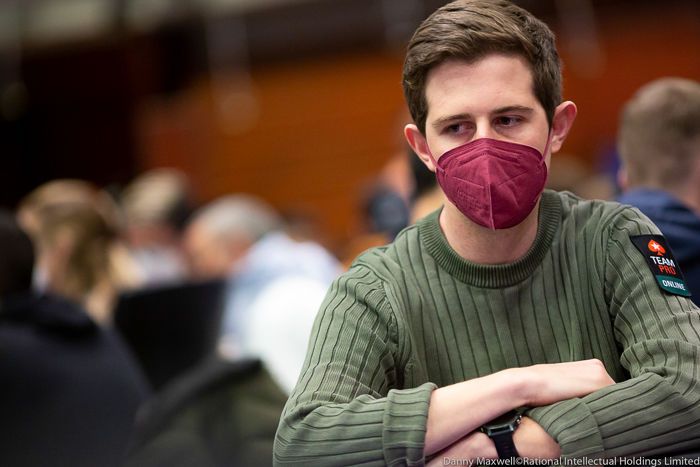 The Dare2Stream process was almost a month and a half long, with streamers competing to catch the eye of the judges and work hard to create a stream identity and strong community.
"Everyone was kind to everyone else," said Huber. "Obviously you had in mind who your competitors were, but many people had regular jobs and hadn't streamed before. So it was harder for them. But I've been streaming for over 18 months. I had already played for a couple years before that, so it meant I was really quite comfortable playing so I could focus on the streaming.
"If you start streaming, it's really hard to combine the two. Because streaming takes too much out of you, but if you've already got the knowledge of one aspect of it then it becomes easier."
---
Read More: PokerStars Ambassador Mason Pye on being one of Twitch's Young Guns
---
Setting Poker Goals
Many poker steamers set themselves goals, with bankroll challenges a common staple among even the poker streaming elite. Huber says that as his streaming career has progressed, he has found poker goals taking more of a back seat and instead focusing on the community he has created.
"I want to increase my viewers and reward my old school viewers. Without them, it wouldn't be possible to get to where I am now.
"But I also want to get better at poker, so for me my poker goals are about combining those two things. I'm still looking at my streaming numbers and I keep track of what's going on, but I try to keep that on the side and just be the best and see where we go."
---
Related: PokerStars Team Pro Parker Talbot on Educating His Community and Missing Live Poker
---
As part of his career development, Huber said he was excited to experience his first EPT in Prague.
"As a European, it's the poker tour you aspire to go to. I really enjoy playing live as it's something completely different and for me it's super exciting. I'm super happy just to sit at the table with no headphones and just join in with the action and watch closely."
Learning From Lex
PokerStars has a strong pedigree for Twitch poker streamers, first with Jason Somerville and now with the likes of Lex Veldhuis and Global Poker Award winner Benjamin Spragg.
Huber said he was excited to meet all of them, as well as learn from their experience on the site.
@Mr__Boxes @Steve_Enriquez @SquidPoker @WilloelPillo @PapoMcArg & @sr_catof welcoming @peace_ndloove to the… https://t.co/hhcJqA48ph
"When you first open Twitch poker, you see all of those guys, and they're idols and people you look up to.
"The work Lex is putting in is just insane. You're always comparing with yourself how many streams or how many hours you stream per week, and obviously Lex has a family and a kid so he needs to be a little flexible. But the hours he's putting in, it's just insane. It's completely insane with the quality of his content.
"And Spraggy, he's just himself. He doesn't give a crap, he's just himself. And being yourself on the internet is really important. Just do what you think it's best and that's fine.
Twitch Poker
Twitch Poker continues to evolve and develop, even after so many years. Huber says that the site is always changing, but the key point remains the same. It's about creating a community.
"Having a community of friends, reaching out and having fun together. That's what it's about. It's about entertaining each other and playing the game.
"I met some of my viewers here in Prague who qualified for an event, and you keep chatting like you're on the stream. It's something every poker player wants to have. No one wants to sit grinding on their own by their self, so having a community is just amazing."