Poker players across the United States and around the world are excitedly awaiting the 2022 World Series of Poker, following the release of the WSOP schedule last week.
He may have six WSOP bracelets, but count Daniel Negreanu among those who are counting down the days ahead of the biggest and most prestigious poker festival in the world.
2022 World Series of Poker Hub
Bookmark this page! All you need to know about the 2022 WSOP is here.
Negreanu Targets the High Rollers
Negreanu praised the WSOP team and specifically WSOP Vice President Jack Effel for their ability to solve the "puzzle" that is the WSOP schedule.
"It's a daunting task, but I think they nailed it," Negreanu told PokerNews. "The WSOP schedule has something for everyone from low rollers to high rollers, big bet players and mixed game lovers!
"Plenty of fun events sprinkled in there and even something for the online grinders."
---
Read More: Why Hiring Daniel Negreanu was GGPoker's Smartest Move to Date
---
Last week Negreanu gave his Twitter followers a first look at the WSOP schedule he was planning to play.
"As usual, I'm going to put in a lot of volume, focusing mainly on the high buy in events and kicking it off with a new tournament, a $100,000 Bounty event! The one I look most forward to every year is the $50K Poker Players Championship.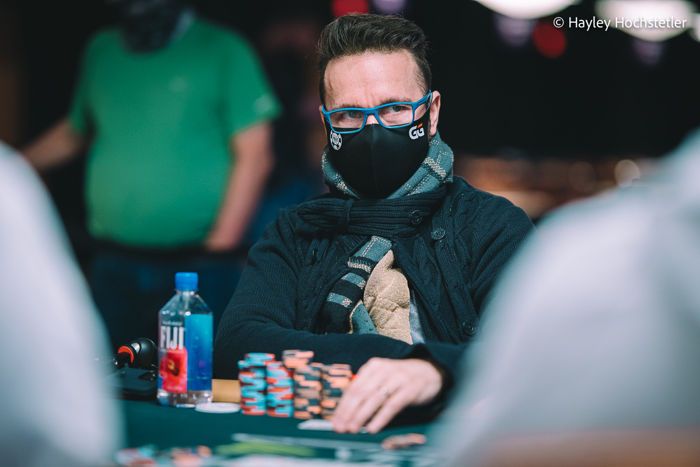 Negreanu's Million Dollar Summer?
Breaking down Negreanu's schedule, he plans to play in 49 of the 88 bracelet events, mostly consisting of mixed game and High Roller events. This means it looks like Kid Poker won't be making an appearance in the $5,000,000 GTD opening event 'The Homecoming', nor will he be jumping into the Colossus, Millionaire Maker or Monster Stack.
Another notable event not on Negreanu's schedule is the Million Dollar Bounty, which comes with a top bounty of $1,000,000.
If you total up all buy-ins of the 49 events on Negreanu's schedule, it comes to over $930,000 — and that's before re-entry events are taken into account!
---
With the Schedule Out, Here's What Will Be Different at the 2022 WSOP
---
Daniel Negreanu's WSOP Schedule
As stated by Negreanu himself, the schedule features 10 events with buy-ins over $10,000. They include the $250,000 and $100,000 High Rollers, both of which come with single re-entries.
| Buy-in | Events |
| --- | --- |
| <$2,999 | 16 |
| $3,000<$9,999 | 8 |
| $10,000 | 15 |
| >$10,000 | 10 |
The breakdown of events also shows that Negreanu is focusing on No-Limit Hold'em and mixed events (e.g. Dealer's Choice, Poker Players Championship) as he aims to add another WSOP bracelet to his collection.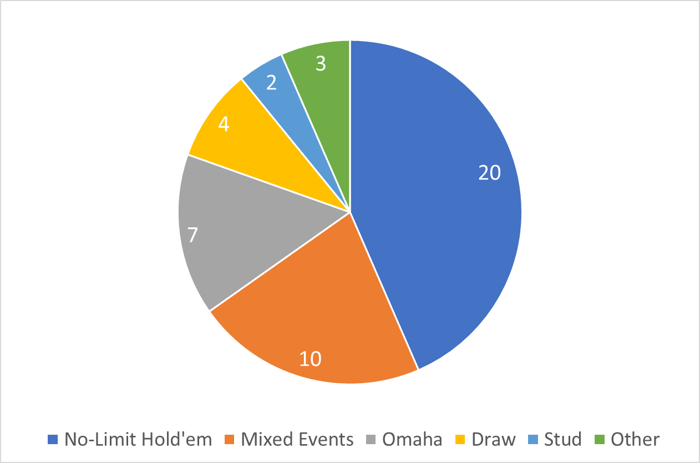 Here is the full list of events Negreanu said he would be playing.
| Date | Event |
| --- | --- |
| May-31 | Event #2: $100,000 High Roller Bounty* |
| Jun-02 | Event #6: $25,000 Heads-Up No-Limit Hold'em Championship |
| Jun-04 | Event #8: $25,000 High Roller* |
| Jun-05 | Event #10: $10,000 Dealer's Choice Championship |
| Jun-06 | Event #12: $50,000 High Roller |
| Jun-07 | Event #15: $10,000 Omaha Hi-Lo 8 or Better Championship |
| Jun-08 | Event #17: $2,500 Mixed Triple Draw Lowball* |
| Jun-09 | Event #19: $25,000 Pot-Limit Omaha High Roller** |
| Jun-10 | Event #22: $10,000 Seven Card Stud Championship |
| Jun-11 | Event #23: $3,000 Limit Hold'em 6-Handed |
| Jun-12 | Event #26: $10,000 Limit Hold'em Championship |
| Jun-13 | Event #27: $1,500 Shootout No-Limit Hold'em |
| Jun-13 | Event #28: $50,000 Pot-Limit Omaha High Roller** |
| Jun-13 | Event #27: $1,500 Shootout No-Limit Hold'em |
| Jun-14 | Event #29: $1,500 No-Limit 2-7 Lowball Draw** |
| Jun-15 | Event #31: $10,000 Limit 2-7 Lowball Triple Draw Championship |
| Jun-15 | Event #32: $1,500 H.O.R.S.E. |
| Jun-16 | Event #33: $3,000 6-Handed No-Limit Hold'em* |
| Jun-16 | Event #35: $2,500 Mixed Big Bet Event** |
| Jun-17 | Event #38: $10,000 No-Limit 2-7 Single Draw Championship* |
| Jun-18 | Event #40: $10,000 Seven Card Stud Hi-Lo 8 or Better Championship |
| Jun-19 | Event #42: $100,000 High Roller No-Limit Hold'em* |
| Jun-20 | Event #44: $10,000 H.O.R.S.E. Championship |
| Jun-21 | Event #45: $1,500 Pot-Limit Omaha 8-Handed** |
| Jun-21 | Event #46: $5,000 6-Handed No-Limit Hold'em* |
| Jun-22 | Event #48: $1,500 Eight Game Mix 6-Handed* |
| Jun-23 | Event #50: $250,000 Super High Roller No-Limit Hold'em* |
| Jun-24 | Event #52: $2,500 Nine Game Mix 6-Handed* |
| Jun-25 | Event #53: $5,000 Mixed No-Limit Hold'em/Pot Limit Omaha** |
| Jun-26 | Event #56: $50,000 Poker Players Championship |
| Jun-28 | Event #60: $10,000 Short Deck No-Limit Hold'em* |
| Jun-29 | Event #62: $1,500 Super Turbo Bounty No-Limit Hold'em Freezeout |
| Jun-29 | Event #63: $10,000 Pot-Limit Omaha Hi-Lo 8 or Better Championship |
| Jun-30 | Event #65: $3,000 Freezeout No-Limit Hold'em |
| Jul-01 | Event #67: $10,000 Super Turbo Bounty No-Limit Hold'em Freezeout |
| Jul-02 | Event #69: $10,000 Pot-Limit Omaha 8-Handed Championship |
| Jul-05 | Event #70: $10,000 No-Limit Hold'em Main Event World Championship |
| Jul-08 | Event #73: $1,500 Razz |
| Jul-09 | Event #74: $1,500 Bounty Pot-Limit Omaha** |
| Jul-10 | Event #76: $1,979 Poker Hall of Fame Bounty** |
| Jul-11 | Event #77: $1,500 Mixed No-Limit Hold'em/Pot Limit Omaha** |
| Jul-11 | Event #78: $2,500 No-Limit Hold'em* |
| Jul-12 | Event #79: $10,000 Razz Championship |
| Jul-13 | Event #81: $5,000 Freezeout No-Limit Hold'em |
| Jul-14 | Event #83: $50,000 High Roller No-Limit Hold'em* |
| Jul-14 | Event #84: $3,000 H.O.R.S.E. |
| Jul-15 | Event #86: $10,000 6-Handed No-Limit Hold'em Championship |
| Jul-16 | Event #87: $5,000 8-Handed No-Limit Hold'em* |
| Jul-17 | Event #88: $1,000 Super Turbo No-Limit Hold'em* |
* denotes single re-entry events. **denotes 2+ re-entry events