Perhaps the PokerNews karma really is a thing after Ali Imsirovic won the 2022 PokerGO Cup Event #7: $25,000 No-Limit Hold'em for $365,500, his 16th high roller title in the past 365 days.
On Tuesday, we penned an article on the value Daniel Negreanu brings to GGPoker. One hour later he was crowned champion of Event #6: $25,000 No-Limit Hold'em, a $350,000 score for the Poker Hall of Famer.
The following day, PokerNews journalists Matt Hansen and Jon Sofen debated which player — Michael Addamo or Imsirovic — is better. Within hours after we dropped that piece Wednesday afternoon, Imsirovic won a PokerGO Cup tournament. Maybe it's karma, or maybe Negreanu and Imsirovic are just really good at poker (most likely the latter).
PokerGO Cup Event #7 Final Results
| Place | Player | Prize |
| --- | --- | --- |
| 1 | Ali Imsirovic | $365,500 |
| 2 | Sam Soverel | $236,500 |
| 3 | Jeremy Ausmus | $161,250 |
| 4 | Nick Schulman | $118,250 |
| 5 | Cary Katz | $86,000 |
| 6 | Darren Elias | $64,500 |
| 7 | Roger Sippl | $43,000 |
Soverel Provides Competition
Imsirovic reached Wednesday's final table in the 43-entrant tournament with the chip lead, and he's difficult to beat when playing from ahead. But Sam Soverel, one of the top high-stakes pros in the world, went stride for stride against the 2021 Global Poker Index Player of the Year on Day 2.
Free to Play Slots
---
After his
held up against
to bust Cary Katz in fifth place ($86,000), Imsirovic held approximately 60% of all chips in play. Soverel then ran into some rough luck when Jeremy Ausmus, the PokerGO Cup series leader, jammed from the small blind for 410,000 (10 big blinds) with
. Soverel, who originally raised to 80,000 under the gun with
, snap-called, and the table watched the board run out
.
Ausmus stayed alive and Soverel fell back to the second shortest stack, barely ahead of Nick Schulman, who also had an ace in the aforementioned hand but folded preflop.
The bad beat was most costly for Schulman as he ended up busting in fourth place for $118,250, but would have still been alive three-handed if not for that ace on the river. After Imsirovic knocked out Ausmus in third place ($161,250), he held a 5:1 chip advantage over his heads-up opponent, but this match was far from over.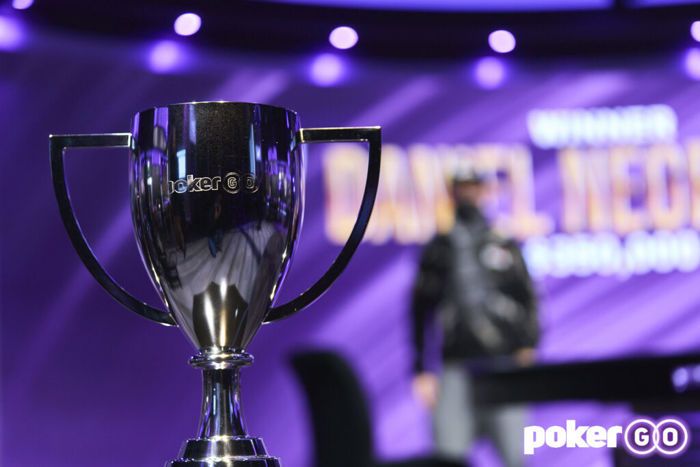 With the blinds at 25,000/50,000 and the board reading
, Soverel declared, "I can't fold this one," and called an 11 big blind shove with
, just king-high. Fortunately, for the poker pro, Imsirovic had
and was on a stone-cold bluff.
Moments later, Soverel value bet a small pair on a paired board and his opponent paid him off for 500,000 with ace-high. Just like that, the stacks were nearly even. Shortly after, Soverel would take a slight advantage as the heads-up match was becoming an intense battle between two poker greats.
Hitting the Dream Turn Card that Doesn't Improve Your Hand
The evenly matched stacks would be no more following the most memorable hand at the final table. Soverel would hit a dream turn card that turned out to be a nightmare. Well, for him, but certainly not Imsirovic.
With
in the hole, Soverel raised on the button and was called by
. The flop came out
, bingo for Imsirovic, who checked it back to the button. Ace-high bet out 75,000 and Imsirovic wasn't about to slow-play his hand, so he check-raised to 350,000. Both players began the hand with around 3.5 million.
Soverel made the call and saw the
on the turn, which he may have assumed was the perfect card. Imsirovic bet out 700,000 and his opponent made the call. The river was a meaningless
and Imsirovic moved all-in. Sitting on top pair and a strong kicker, Soverel couldn't find a fold. He put in the calling chips and found out the bad news, and was left with just three big blinds. The tournament ended on the ensuing hand.
"The Bosnian Bandit strikes again," PokerGO commentator Brent Hanks shouted.
Ali Imsirovic won his 16th high roller poker tournament since February 2021 (14 last year). The 2021 PokerGO Tour champion cracked the $16 million lifetime mark, according to the Hendon Mob database, with his $365,500 win on Wednesday.
Ausmus in the Driver's Seat
The final event of the PokerGO Cup, a $50,000 buy-in no-limit hold'em competition, kicked off Wednesday at the PokerGO Studio in Las Vegas with 32 players. When the session concluded well after 1 a.m., only five players remained, the only players who will cash.
As play began to wind down on Day 1, Ausmus was still standing (seated, technically), which meant that the others in contention for the 2022 PokerGO Cup trophy were in trouble.
Ausmus had a fairly comfortable lead with 504 overall points during the series. Katz was in second place at 346, but he busted short of the money and was eliminated from contention. Brock Wilson, Sean Perry, and Daniel Negreanu were both still mathematically alive, although an Ausmus second place or better finish would have ended it for any of them.
Jason Koon was eliminated in sixth place on the money bubble. That leaves five players to come back at noon PT (1 p.m. on PokerGO) on Thursday to wrap up the second annual PokerGO Cup. Perry, Wilson, and Negreanu can all still win the series title, but they'll need help.
For Negreanu to repeat as champion, he must win and then have Ausmus finish in fifth place. Wilson can win the title if he takes down Event #8 and Ausmus is finishes no better than third place, and Perry will become the 2022 PokerGO Cup champion if he ships the final event and Ausmus is out in fourth or fifth place.
2022 PokerGO Cup Schedule and Updated Results
| Date | Buy-In | Entries | Winner | Prize |
| --- | --- | --- | --- | --- |
| Feb. 2 | Event #1: $10,000 NLH | 77 | Daniel Colpoys | $200,200 |
| Feb. 3 | Event #2: $10,000 NLH | 80 | Sean Perry | $200,000 |
| Feb. 4 | Event #3: $10,000 NLH | 80 | Jake Daniels | $200,000 |
| Feb. 5 | Event #4: $15,000 NLH | 65 | Jeremy Ausmus | $263,250 |
| Feb. 6 | Event #5: $25,000 NLH | 41 | Nick Petrangelo | $369,000 |
| Feb. 7 | Event #6: $25,000 NLH | 35 | Daniel Negreanu | $350,000 |
| Feb. 8 | Event #7: $25,000 NLH | 43 | Ali Imsirovic | $365,500 |
| Feb. 9 | Event #8: $50,000 NLH |   |   |   |
*Images courtesy of PokerGO.