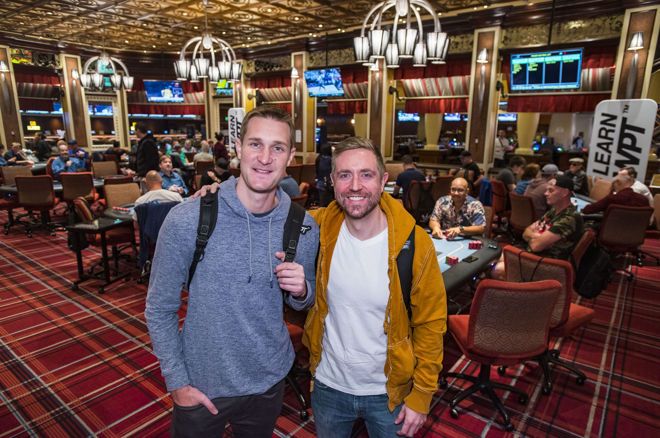 When was the last time you saw 15 cash games running in a poker room at 10 am?
That's exactly what happened Tuesday in the Bellagio poker room amidst the festivities for the World Poker Tour (WPT) Five Diamond Series. It was there that WPT ambassadors Andrew Neeme and Brad Owen hosted one of their largest meetup games ever.
"Usually if it's 10 a.m. and I'm playing poker, it's because I've been there all night, so yeah, this usually isn't my shift so to speak, but to be able to reserve this amount of tables we need for this kind of an event, you gotta do what you've gotta do and we're happy to be here and get out of bed for it," Neeme told PokerNews before joining many of those 15 tables worth of players for a post-session meet and greet in the Bellagio sportsbook bar.
Fans of the vlogging superstars certainly weren't hesitant to get up early to support the duo, and neither were a large number of other poker luminaries.
"This is the first time we've ever done a morning meetup game, so we had no idea what to expect. To get this kind of support out here, not just from the viewers, but to get other big names, like Steve Aoki, Joe Ingram showed up, the whole WPT family with Tony Dunst and Vince Van Patten is pretty amazing," said Owen.
The day was a huge success as there were still ten MUG (meetup game) tables running at 5 p.m. before Neeme and Owen exchanged their chips for beverages and conversations with their many fans. One player coming away with an extra story was Philip Peterson, who won a seat to the WPT Championship in December via a high hand of the day giveaway.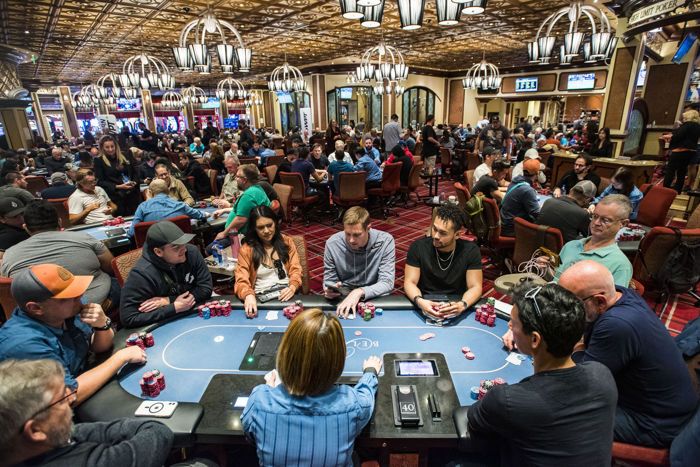 You've Come a Long Way Baby
As pioneers of poker vlogs and meetup games, Tuesday's event truly felt like a culmination of not only Neeme and Owen's success growing from fledgling YouTube vloggers to genuine poker superstars, but a celebration of the positive influence they've brought to the poker world which they now officially share as WPT ambassadors.
"It was something that we thought was a possibility, and I think Andrew saw it coming more than I did, but you know, we're live cash game players, so it's not like there were that many companies that were jumping at the opportunity to sponsor live cash game players when we started doing this," said Owne. "So, to have it actually materialize is beyond a dream come true for both of us."
Neeme echoed his friend's sentiment: "In some regard, it was a goal to be able to find a partner to be able to work with and to help your content get traction, but some of this other stuff was impossible to foresee. Fifteen tables worth of people, traveling to all these locations and having people watch your content, it's unfathomable. Even now it's kind of tough to get your mind around."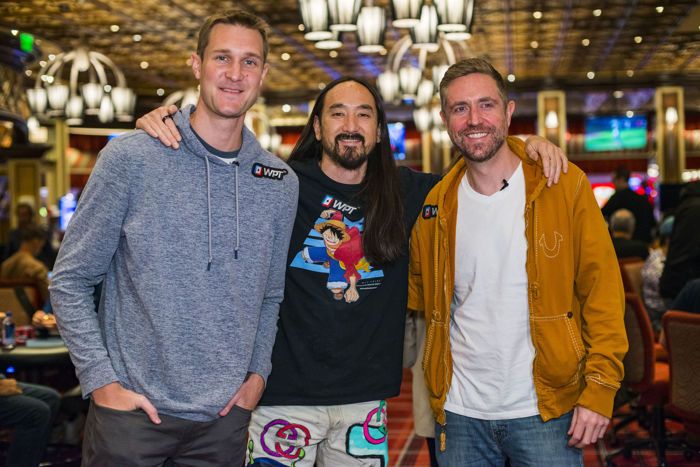 From Cash Game Grinders to Tournament Crushers?
While there are cash game events sponsored by WPT that the duo will be playing in, including a recent one in which Owen was seated to the right of Phil Ivey and still came away a big winner, the World Poker Tour is, of course, the largest tournament series on the globe.
As such, Neeme and Owen have been upping their tournament games, with Owen, in particular, seeing some significant results, winning a pair of seats to the WPT Championship via a Club WPT Freeroll, and then a WPT Global satellite (Owen gave the first seat to second place finisher William Hanes, and has plans to give the second seat away to a viewer).
Owen also had a pair of deep live runs at WPT Tampa, finishing second in a $1,100 side event for a career-best $20,530 score, then eclipsing that number just four days later with a 24th-place finish in the Main Event for $21,900.
"It's been cool to dedicate a little bit more time towards tournaments and tournament studying, and there's big incentive for us to continue," said Owen.
Check out the WPT Hub on PokerNews here!
Where They've Been and Where They're Going
Poker life has certainly changed in a hugely positive way for Neeme and Owen, who are recognizable in any poker room they walk into. But while they do love everything that they've earned, there will always be some nostalgia for their days battling to establish their footprint in the poker world.
"I think it was a bit more romantic when we were playing $2/5 for rent money and everything, and you could really see the struggle," said Owen. "So, you lose that a little bit as your channel grows and you start being sponsored by major poker companies, so it's fun for me to look back on those videos and just see myself and look at a kid who had no idea what was ahead."
As for the future, while they've already done so much, they know the next five years are as much a mystery as the last five years were back when they started.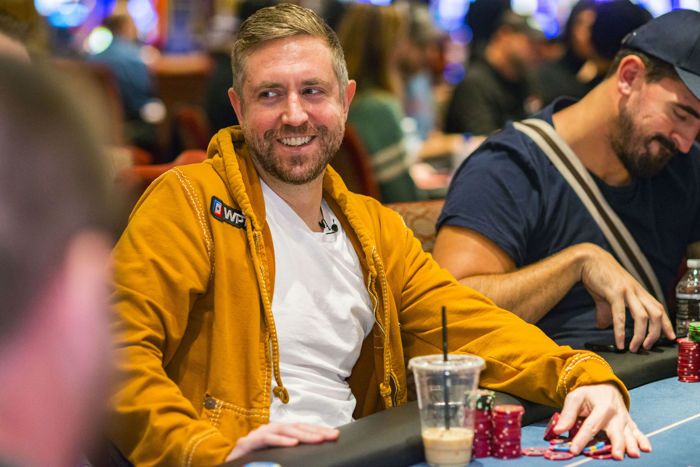 "I have no idea," said Neeme. "Looking back five years prior to this, there are so many things that we could not have predicted. We have some ideas for the Lodge (the Austin, Texas card room of which they're part of an ownership group with Doug Polk), as far as expansion. And as far as everything else, hopefully, we will have our names on a couple of trophies. If not, it'll be okay, and we'll just keep going with this thing, and it'll be great."
"Andrew's in his 40's now, so if he's not in the Poker Hall of Fame five years from now, I don't know, I think they'll need to find someone new to do the voting." Owen playfully replied.
"Like Andrew said, everything's been such a wild ride. There's no way to predict that we'd be where we are now, so it's really tough to say."
The meet-up game took place before the WPT Five Diamond World Poker Classic, a $10,400 buy-in, $5 million GTD tournament that runs from October 19-23. WPT Five Diamond is the longest-standing recurring WPT tournament, taking place at Bellagio since 2002. It has endured the test of time, and holds unique historical significance as the starting point for the World Poker Tour.
PokerNews will be offering daily content from the event, so stay tuned for more big WPT recaps, stories, and more!
*Images courtesy of WPT/Joe Giron.