Now entering her fifth year as a 888poker ambassador, Vivian Saliba is one of the most recognisable faces in poker thanks to her streams and passion for the game.
She's previously spoken to PokerNews before about her passion for streaming poker, and her switch from live to online poker, and we caught up with her again to talk about the return of live poker.
Retro Week Excitement
As 888poker celebrates its 20th anniversary, she says that the site has come a long way even during her involvement in the site. From a revamped identity to a brand new client and software, and a different tournament schedule she says there have been "many exciting changes" during her time as an ambassador.
And now as part of their anniversary celebrations, the 888poker Retro Week is another innovation that Saliba is looking forward to.
"I love to play different formats of poker," she said. "The Retro Week will host a sum of the best tournaments of 20 years of 888poker history. I couldn't be more excited to take part of this nostalgic week and hopefully to create new memories."
Watch Saliba Stream Live on Twitch!
Post-Pandemic Poker
The pandemic also changed many things in the poker world, and Saliba herself is no exception.
"I've even got a little rusty in PLO because I haven't been playing much!"
"Before the pandemic, I was traveling the world, playing a lot of Pot-Limit Omaha and was very engaged with the live poker scene. Nowadays, I've been playing a lot of online poker, a lot of streaming and also playing a lot of tournaments. And I have to say I've even got a little rusty in PLO because I haven't been playing much!"
This switch from cash games to tournaments and from PLO to No-Limit Hold'em is not something that can happen overnight, she admits.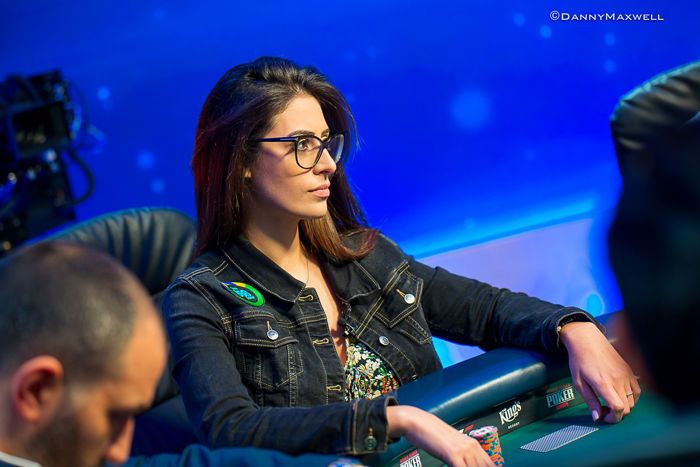 "Like anything you want to master, it requires dedication, study, commitment, and time. It's important that you figure out what you like to do. There are tournaments, there are cash games. There is Omaha and Hold'em, and also mixed games. In cash games, you need to decide whether you want to play short- or deepstacked games.
"Being a poker player is not so simple. Figure out what you like to do, what your goals are. Once you know where you want to get, it's easier to establish a plan and follow that plan to reach that result."
---
Read More: Celebrate 20 Years of 888poker With the $888K Gtd Retro Week Series
---
Switching to Tournaments
The shift to tournaments was a necessary one, as the poker world transitioned online in the wake of the pandemic. Saliba says in the beginning she struggled to adapt to online poker after excelling at live poker for so many years.
"It was a moment of self-confrontation and also being honest to myself in my poker skills. I realised I had to work hard on my PLO game, because online games are so much tougher than live ones, in general.
"But what I also realised is that I like playing online tournaments. When I play live, I like both. But if I play at home I prefer to just play tournaments."
---
Read More: It's Your Time To Shine Throughout the 888poker Retro Week
---
Like many poker players, Saliba is excited about the return of live poker, but says that she isn't quite ready to abandon the online felt entirely having grown to love it over the past couple of years.
"I think because of streaming, I really enjoy playing online poker nowadays because I have my community there with me. And even when I don't stream and I'm grinding online, I really enjoy being able to put in a lot of volume.
"So as much as I am looking forward to live poker being back, I still want to keep online poker in my life."
Continuing to Grow
And how does she think her adventure into online poker has affected her poker abilities?
"It's definitely pushed me forward. I had to work harder because online poker is, in a way, tougher. Everybody is studying. Content is out there available to all, so I just have to keep improving
"And I feel like I came so far in my poker knowledge in these last two years, more than I evolved in the last seven years."
888poker Retro Week Schedule
Miss playing your old favorite 888poker tournaments? Well, stop pining for them because many of them take place during Retro Week. Jump into the $20,000 Monsoon, or the $20,000 Hurricane. Battle it out in the $10,000 Monday Twins, or pad your bankroll by winning the $30,000 Friday Challenge. Check out the table below for the full 888poker Retro Week schedule.
| Date | Time (GMT) | Event | Buy-in |
| --- | --- | --- | --- |
| Mon 21 Mar | 4:30 p.m. | Retro Week #5 – $15,000 Lightning PKO 6-Max | $109 |
|   | 6:00 p.m. | Retro Week #6 – $10,000 Monday Twins #1 | $22 |
|   | 6:30 p.m. | Retro Week #7 – $10,000 Monday Twins #2 | $22 |
|   | 8:00 p.m. | Retro Week #8 – $10,000 Breeze PKO | $55 |
| Tue 22 Mar | 6:00 p.m. | Retro Week #9 – $30,000 Tuesday Challenge Freezeout | $109 |
|   | 7:00 p.m. | Retro Week #10 – $20,000 Monsoon 8-Max | $55 |
|   | 8:00 p.m. | Retro Week #11 – $10,000 Catfish PKO | $16.50 |
| Wed 23 Mar | 5:00 p.m. | Retro Week #12 – $7,000 Blowfish | $11 |
|   | 6:00 p.m. | Retro Week #13 – $20,000 Wednesday Challenge | $33 |
|   | 7:00 p.m. | Retro Week #14 – $15,000 Monsoon PKO | $55 |
| Thu 24 Mar | 4:30 p.m. | Retro Week #15 – $20,000 Hurricane PKO | $109 |
|   | 6:00 p.m. | Retro Week #16 – $20,000 Thursday Challenge R&A | $22 |
|   | 8:00 p.m. | Retro Week #17 – $10,000 Breeze 6-Max | $55 |
| Fri 25 Mar | 6:00 p.m. | Retro Week #18 – $30,000 Friday Challenge KO | $109 |
|   | 7:00 p.m. | Retro Week #19 – $20,000 Big Fish PKO | $33 |
|   | 8:00 p.m. | Retro Week #20 – $10,000 Catfish 6-Max | $16.50 |
| Sat 26 Mar | 4:00 p.m. | Retro Week #21 – $12,000 Swordfish 6-Max | $33 |
|   | 6:00 p.m. | Retro Week #22 – $30,000 Saturday Challenge PKO 8-Max | $55 |
|   | 8:00 p.m. | Retro Week #23 – $15,000 Tornado PKO | $88 |
| Sun 27 Mar | 6:00 p.m. | Retro Week Main Event – $300,000 Mega Deep | $215 |
|   | 7:00 p.m. | Retro Week #25 – $50,000 Mini Mega Deep | $33 |
|   | 8:00 p.m. | Retro Week #26 – $50,000 Whale | $525 |
Celebrate 20 Years of 888poker With the $888K Gtd Retro Week Series